Grounded Indian carrier Go First has once again extended its suspension of flights, cancelling all operations until 28 May.
Go First initially suspended flights on 2 May amid financial challenges and the unavailability of around half of its Airbus A320neo fleet – an issue on which it is at loggerheads with engine manufacturer Pratt & Whitney over the support of its PW1100Gs.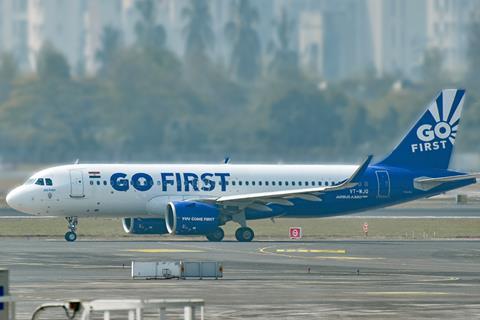 The Indian carrier, which has since entered a restructuring process under India's insolvency code, first suspected flight until 6 May. It has since repeatedly extended the cancellation for a further period of days. Most recently Go First had cancelled flights until 25 May. This though has been extended again until 28 May.
In updating passengers of the cancellation, Go First has again reiterated its hope to resume services. "The company has filed an application for immediate resolution and revival of operations. We will be able to resume bookings shortly," it says.