Iberia has reached an agreement with fuel-supply specialist Cepsa over large-scale sustainable biofuel production, which will be sourced from waste, recycled oils, and sustainable plant feedstock.
The agreement also covers efforts to decarbonise the air transport industry with the development of alternative fuels, including renewable hydrogen and electrical power – both for aircraft and airport ground vehicles.
Iberia says the pact, which includes its low-cost subsidiary Iberia Express, emphasises the priority the company is placing on a low-carbon strategy.
The programme will include flight-testing and research into sustainable fuels.
"This alliance illustrates our commitment to sustainability and our strong resolve to support our customers by providing them with viable solutions that accelerate their energy transition," says Cepsa chief Maarten Wetselaar.
He says decarbonising transport is a "common goal" of the company and Iberia, and the agreement gives the carrier a competitive advantage by providing preferential access to the fuel.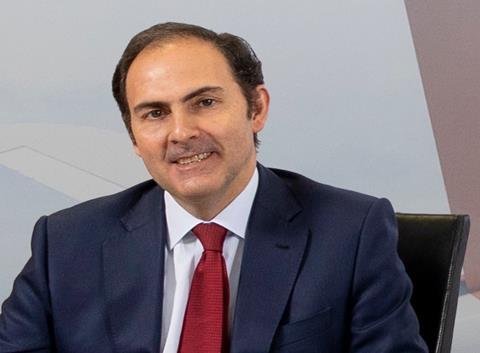 IAG-owned Iberia is aiming to operate at least 10% of its flights with sustainably-sourced fuel by 2030, in line with its parent's commitment to achieve net zero emissions by 2050.
Iberia chief Javier Sanchez-Prieto says the development, production and distribution of such fuels, in sufficient quantities, is "essential" and that the Cepsa agreement will "contribute" to its targets.