Icelandair is to support a domestic initiative to produce sustainable aviation fuel by provisionally agreeing to an offtake of the fuel.
It has entered the memorandum of understanding with IdunnH2, a company established in 2020 which is developing a commercial-scale synthetic fuel facility in Helguvik Harbour, close to Icelandair's base at Reykjavik Keflavik airport.
Icelandair will take up to 45,000t of sustainable carbon-neutral fuel from 2028 onwards. It says it will account for a 10% annual reduction of carbon emissions on its international network. The carrier has already been modernising its fleet with the introduction of more fuel-efficient Boeing 737 Max jets.
"We want to pull our weight to support pioneers that are working on the development of sustainable fuels in Iceland," says Icelandair chief Bogi Nils Bogason.
He says such fuels will play an "important role" in decarbonisation, but adds: "There is not enough production in the world today and therefore not enough supply. We believe there are great opportunities for Iceland to start such production."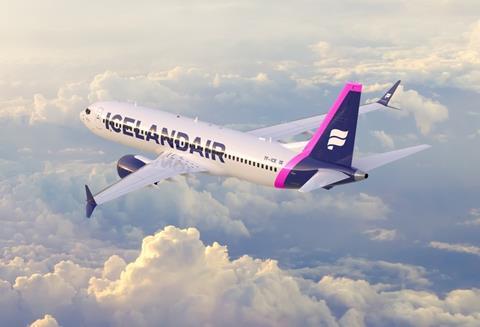 IdunnH2 refers to the sustainable fuel as 'e-kerosene', produced by combining green hydrogen – produced through renewable energy – with carbon dioxide from the atmosphere or an industrial source. The company says its project will use fully-renewable energy off the grid.
"We've worked diligently on bringing the relevant stakeholders to the table to establish the benefits of having such a facility in Iceland," says chief executive Audur Baldvinsdottir.
"We are pleased that our largest carrier is prepared to step up and support our development plan."
Icelandair will use this sustainable fuel, blended with conventional fuel, to power its current aircraft fleet.