Indian low-cost carrier Go First has suspended flights for the next three days and reportedly filed for insolvency protection, laying the blame on "ever-increasing" failures of Pratt & Whitney engines, which it says have left half its Airbus A320neo fleet grounded.
Go First, the operating brand of Wadia Group-owned Go Airlines, has cancelled flights from 3-5 May, citing "operational reasons".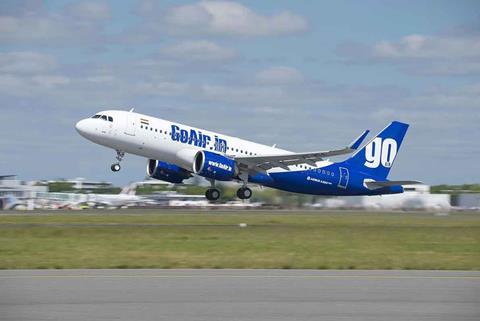 The airline has separately been reported as having filed an application with India's National Company Law Tribunal for resolution under its insolvency bankruptcy code.
Social media postings appear to show a Go First media release confirming the move and blaming the "ever-increasing number" of unservicable Pratt & Whitney PW1100G geared turbofans, which power its fleet of A320neos. The document says this has resulted in it grounding 25 aircraft – about half its A320neos.
Go First has been contacted for confirmation of the media release.
Cirium fleets data shows Go First has 24 A320neos in service and 26 in storage. It also has five CFM International CFM56-powered A320s.
Hawaiian Airlines last month said five of its A321neos were grounded due to engine supply chain issues affecting PW1100G customers.
Disclosing first-quarter results on 25 April, executives at P&W parent Raytheon Technologies said the engine maker is "only about 50%" through a critical upgrade programme designed to improve the durability of components in PW1100Gs. Reduced time-on-wing has been a particular problem for early-build PW1100Gs. The durability issues, combined with supply chain constraints, have forced some operators to ground aircraft due to a lack of spare engines or replacement parts.
P&W has also been asked for comment but did not immediately respond.
Go First, formerly known as GoAir, had been planning to list on the Indian stock exchange, but the country's security and exchange regulator temporarily halted the airline's initial public offering in 2021.
The Mumbai-based airline was the third-biggest carrier in the Indian domestic market in 2022 by passengers holding just under a 9% share, regulatory data shows.