Israeli flag-carrier El Al has reached a conditional agreement with the government on an alternative funding scheme, after the airline spent several months trying to negotiate a state-backed loan from local banks.
El Al and its Sun D'Or airline operation have detailed the financing pact under which the Israeli state will pay $210 million for the supply of flight tickets, in advance, for personnel in the country's aviation security system.
In return the two carriers will carry out flights for aviation security workers, to enable them to move between facilities, and bear the costs involved.
An initial sum of 450 million shekels ($136 million) will be transferred to the company within two days of the agreement's entry into force, El Al says.
At the same time another 118 million shekels will be placed in trust to meet obligations for pensions and severance pay to workers affected by new collective agreements, while the balance will be transferred once the company has made certain other payments to terminated employees.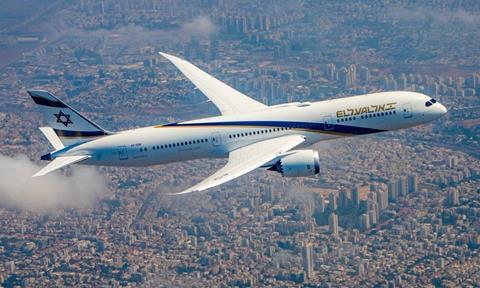 El Al says the agreement depends on its conducting, by 31 July, an issue of shares or options – or a mix – amounting to at least $105 million, of which controlling shareholder Kanfei Nesharim will undertake to acquire at least $43 million.
The carrier must also commit to implementing an efficiency programme to reduce expenditure over the course of 2021-25 compared with its outlay in 2019.
El Al says it will not be permitted to distribute dividends until the end of 2025, and any dividend from 2026-28 will be limited to 30% of total net profit in those years.
Salaries at management and board level will be reduced by 15% compared with 2019, with a similar restriction applying for 2022-24, and limits will be put on company flight benefits at least until the end of 2025.
El Al adds that ministry of finance approval will be required for certain stakeholder transactions.
If the company violates the agreement, it says, the deal will be cancelled and any capital received will be considered an "immediately repayable" loan or debt to the state, even if the company enters insolvency.
El Al says the financial arrangement will become valid once a number of government, regulatory and corporate approvals have been obtained, and amended employee agreements with trade union centre Histadrut enters effect.