Israeli flag-carrier El Al is among airlines being offered an additional line of financial support by the country's government, following a series of discussions with the finance ministry.
The ministry states that it is taking the steps given the "prolongation" of the pandemic crisis and its "consequences for Israeli airlines".
It has outlined a convertible loan scheme to assist carriers to overcome the immediate problem of cash-flow, adding that the government will provide the aid in conjunction with infusion of shareholders' capital.
Specific conditions have yet to be determined. The ministry says financial assistance could take the form of several tranches if necessary, depending on the needs.
The ministry has told El Al that the assistance will be provided through a two-year convertible bond, without interest. After this period the company will decide whether to repay the debt to the government or issue shares to the public.
Shares purchased by the government will not exceed 24% of the company's capital, the ministry says.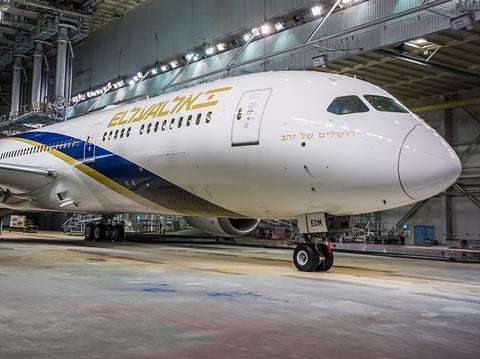 El Al already has an agreement in place for financial support from the government, and the ministry says the new scheme is "in addition" to this funding.
The ministry says the outlined scheme requires approval from government authorities and that it has the right to amend the conditions for receiving the aid.
Israeli trade union centre Histadrut is sceptical, however. The organisation has already declared a formal labour dispute and issued a strike notice for 6 September.
Histadrut is concerned about job security within the aviation industry, given the continuing crisis, as well as workers' conditions.
While it had sought a commitment from the government to assist airlines, it has responded coolly to the ministry's proposal, insisting that it "does not address" the hardship of workers in the industry.
"Our struggle to prevent mass lay-offs and violation of workers' rights will continue," it adds.