Jet Airways aims to relaunch operations in 2024 – five years after its high-profile collapse – following the completion of fresh equity infusion from parent company, the Jalan-Kalrock consortium.
The consortium said on 29 September it had added Rs1 billion ($12 million) in equity to the Indian carrier, bringing its total financial commitment to Rs3.5 billion, in line with the airline's revival plans.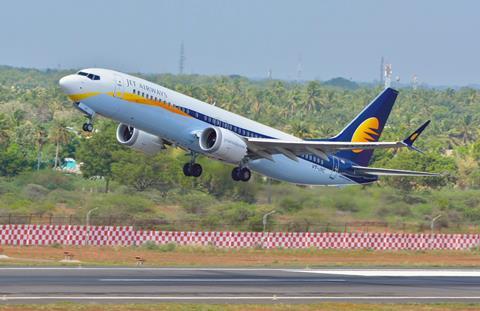 With the latest funds, Jalan-Kalrock says its commitments "now stand fulfilled to take control" of Jet Airways.
"The consortium's strategy to revive the airline remains unaltered. The new promoters are determined to re-establish the operations of the airline up and running in 2024," the statement adds.
Jalan-Kalrock did not state when in 2024 it hopes to relaunch the carrier, only adding that it will make "further announcements… in the coming weeks".
The latest news comes nearly two months after Indian regulators renewed the carrier's air operator certificate (AOC), a welcome reprieve following months of uncertainty.
In May, the airline saw the abrupt departure of its CEO-designate Sanjiv Kapoor, following months of legal woes between the consortium and its creditors. The airline has yet to name a new chief executive.
Jet Airways was the country's largest private carrier when it went under in 2019. A resolution plan from the consortium – comprising tycoon Murari Lal Jalan and Kalrock Capital – received court approval in June 2021, and Jet clinched its its AOC from Indian regulators in May 2022.