Korean Air has received approval from the Ministry of Land, Infrastructure and Transport (MOLIT) to remodel a Boeing 777-300ER passenger aircraft for cargo operations.
This is the first such approval it has received, the airline tells Cirium, and it plans to convert one more 777-300ER, having based its decision on cost-demand analysis.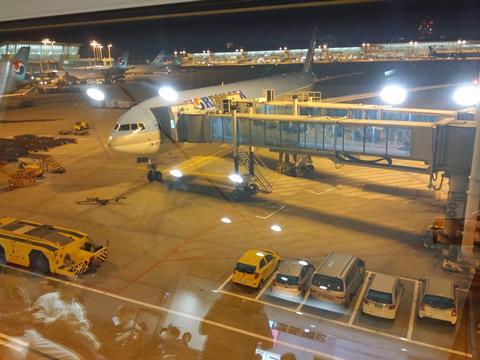 While the remodelled aircraft is not allowed to take passengers, the changes are not permanent.
"Once [passenger travel is] back to normal, and if we need passenger aircraft, then seats will be back into the aircraft."
MOLIT said in a 1 September statement that it jointly supervised the modifications for Korean Air's 777-300ER with manufacturer Boeing, and the process involved changes to the cabin area.
This entailed the removal of 42 business and 227 economy-class seats, and in-flight electrical wiring, as well as the installation of placards in the cabin floor, among other modifications.
The changes increased the aircraft's cargo capacity to 32.8 tonnes, compared with 22 tonnes originally, from the lower-deck cargo hold, according to Korean Air.
The airline tells Cirium that the seats were removed to free up space for cargo while the placards on the floor will indicate the cargo load area.
Korean Air adds that pure freighters such as the 747F and 777F aircraft in its fleet can carry 90-100 tonnes.
MOLIT also states that the modifications are in line with enhanced operational safety standards for deploying passenger aircraft on freight operations, effective 18 June. These address the need to standardise flame-retardent properties of cargo seat bags and other implements necessary to carry cargo among seats in the cabin area, as well as compartmentalising cargo by material to accommodate the layout of the cabin.
Specific to these standards, Korean Air tells Cirium that it will not use cargo seat bags if there are no seats in the cabin area. Cargo will also be secured to the cabin floor using, for example, netting. An additional safety manager will also be deployed for cargo operations flown on such converted aircraft.
Cirium fleets data show Korean Air has 26 777-300ER passenger aircraft in its fleet, all powered by GE Aviation's GE90-115B engines and ranging from 1.2 to 11.3 years old. These are configured with eight seats in first class, 42 or 56 business-class seats, and 227 in economy.
The carrier's in-service fleet also includes four 747-400ERFs, on average 15 years old; seven 747-8Fs, averaging 6.7 years; and 12 777-200LRFs, with an average age of 5.3 years.