Lebanese flag-carrier Middle East Airlines has disclosed full-year losses of LL68.1 billion ($45 million) for 2020, a year in which the country faced an economic crisis, the effects of the pandemic, and the fallout from the Beirut port explosion.
The loss contrasted with the near-LL130 billion profit for the carrier in the previous year, as passenger revenues fell by nearly 60% to LL442 billion.
Around 55% of its revenues derived from Middle East sectors from Beirut, another 30% from European services and 15% from African operations.
MEA says Lebanon has been experiencing "severe events" since October 2019 which set off an interconnected fiscal, monetary and economic crisis – to the point of sovereign default in March 2020, even before the Covid-19 pandemic engulfed global air transport.
While the Lebanese pound is used for presentation in the statement, the carrier is using the US dollar as its functional currency.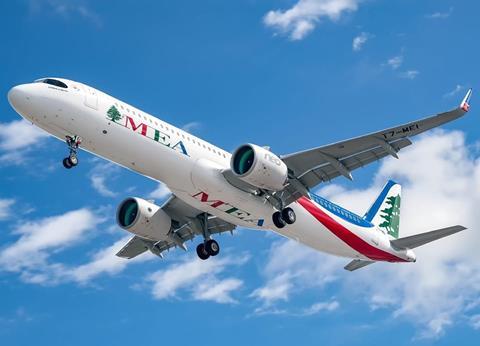 The airline has listed assets and liabilities in accordance with the official exchange rate between the Lebanese currency and the US dollar, but it acknowledges that it is unable to estimate the effects on the statement should official rates change or an alternative legal exchange mechanism emerge.
It says the impact on asset and liability valuation in foreign currencies at different rates is "expected to be significant" and will be recognised once the government implements a new mechanism.
MEA says its premises was not affected by the August 2020 port explosion, but points out that the World Bank has estimated it caused $8 billion in damage to the already-battered Lebanese economy.
The airline says it has substantially reduced network capacity, made structural changes to the fleet, and taken other cash-management measures in response to the impact of the pandemic.
But it adds that, despite a gradual resumption of activity, its financial performance will "continue to be affected…for a duration that currently remains uncertain".
At the end of 2020 the airline still had commitments to take eight Airbus A321neo and four A330-900 twinjets.
MEA says it has received two aircraft this year, with one to be delivered in 2023, two more in each of 2024 and 2025, while five others will "probably" be taken in 2028.
Among the gains listed in the financial statement is LL11.2 billion attributed to A321neo delivery delays.
MEA signed agreements in August and December 2019 covering sale and leaseback of nine single-aisle Airbus jets – seven of which were taken in 2020 and two in 2021 – for 12-year periods.