Cash-strapped Pakistan has announced its intention to privatise flag carrier Pakistan International Airlines, as the country works to stabilise its economy.
The move comes after the International Monetary Fund (IMF) agreed a further $3 billion bailout for the country in June, under which the government is working improve the financial performance of state-owned assets such as PIA.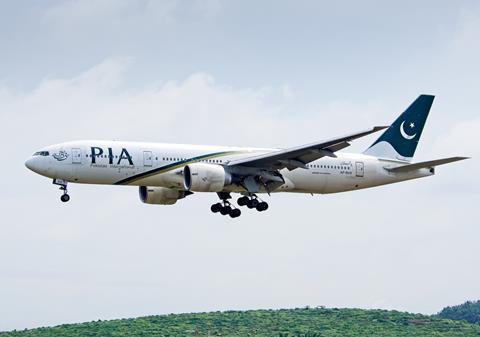 Pakistani prime minister Shehbaz Sharif in late June announced his government's intention to put PIA through another round of restructuring under the auspices of a "high-level committee" that would seek to restore its international reputation and wean it off cash injections from the government.
With that work under way, Pakistan's Cabinet Committee on Privatisation said on 7 August that PIA has been added to the government's "active privatisation projects".
PIA has long weighed on public finances, racking up billions of rupees in losses over the past 20 years, after last making a full-year net profit in 2004. It was profitable at an operating level in the first quarter of this year, but noted that it was continuing to face liquidity problems and was also suffering from the weakness of the Pakistani rupee.
Exacerbating the airline's challenges, it has been banned from flying to EU countries since mid-2020, after the European Union Aviation Safety Agency imposed sanctions relating to preliminary findings over the fatal loss of a PIA Airbus A320 at Karachi and the revelation, around the same time, that a high number of pilot licences issued by the Pakistani civil aviation authority were obtained fraudulently. Today, related bans also cover flights to the USA, Canada and the UK.
PIA recently expressed hopes that flights to the UK would resume in the coming months.
Further reflecting its liquidity challenges, the airline has recently faced warnings over the late payment of airport fees – notably in mid-July from Riyadh Airport Authority.
Alongside various efforts to restructure PIA over the past two decades, there has also been previous public discussion about privatising the carrier, which had so far come to nothing.
As part of the IMF bailout-related actions, the Pakistani government is also aiming to outsource the operation of the country's main hub, Islamabad International airport.
Pakistan's economy has been hit by "catastrophic" floods in 2022, the IMF notes, and rising commodity prices since Russia's invasion of Ukraine. It further cites "some policy missteps" as being behind the country's current challenges.