Qantas has warned that a "sustained" increase in fuel prices will impact its half-year earnings, even as it expects travel demand to remain strong through the year-end.
In a market update issued 25 September, the Australian carrier says its fuel bill is expected to increase by about A$200 million ($129 million) in the six months to 31 December to A$2.8 billion. It also expects to take a A$50 million hit on foreign exchange changes amid a weaker Australian dollar.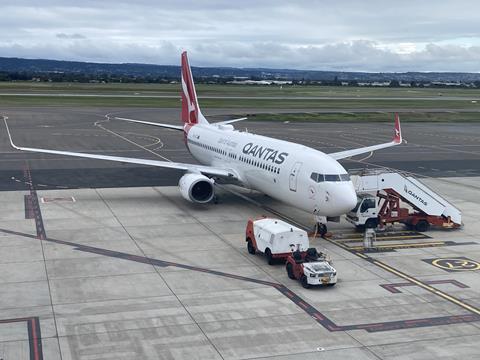 Hinting that an airfare hike could take place, Qantas adds: "The group will continue to absorb these higher costs, but will monitor fuel prices in the weeks ahead and, if current levels are sustained, will look to adjust its settings. Any changes would look to balance the recovery of higher costs with the importance of affordable travel in an environment where fares are already elevated."
The disclosure comes at a challenging time for Qantas, which soared to a record profit for the year ended 30 June. In addition to public backlash over a string of controversies, the airline is facing legal action from the country's competition regulators for allegedly selling tickets on already-cancelled flights.
In its latest market update, the airline says it will invest another A$80 million on "customer improvements" over the next year. The extra investment – funded by its annual profit – is over and above the A$150 million it earmarked to improve its customer service.
Qantas says the additional investment will go towards improving several areas of customer service, including contact centre training, improvements to inflight catering, as well as "more generous recovery support" during operational issues.
The airline expects overall travel demand to remain unchanged from earlier forecasts. Both international and domestic capacity for the six months to 31 December also remain unchanged from earlier estimates.