Cathay Pacific Group expects monthly cash burn to increase by around HK$300-400 million ($38.7-51.6 million), following the Hong Kong government's decision to impose mandatory quarantine measures on all flight crew entering the city for more than two hours.
On top of adding to its current monthly cash burn of HK$1-1.5 billion, the carrier discloses that its "preliminary assessment" is that the measures — involving a 14-day hotel quarantine and a seven-day medical surveillance requirement — might result in a 60% cut in passenger capacity, as well as a 24% cut in cargo capacity.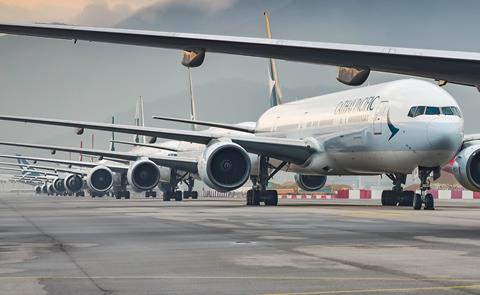 Cathay group commercial and customer chief Ronald Lam says: "The actual extent of such impact is yet to be confirmed and will be affected by a number of factors, including the success of mitigation measures we are able to adopt, such as agile manpower resources management."
The new measures, first reported in local media and likely to take effect in February, are likely to worsen the troubled carrier's financial position.
Cathay in December already warned of a "significantly higher" loss for the six months ended 31 December, as passenger traffic continued to remain in the doldrums amid the coronavirus pandemic.
It plunged to a record HK$8.7 billion operating loss for the first half of 2020. Last October, it slashed 5,900 jobs across the group and shuttered the Cathay Dragon brand. These measures have taken nearly HK$500 million off its monthly cash burn.
In the airline's latest traffic results, Lam flagged the "significant challenges" that continue to confront the airline, including the new quarantine measures, as well as the suspension of flights to the UK in late December following the discovery of a new coronavirus strain.
On 28 December, it carried just 490 passengers — the lowest single-day number in more than six months, says Lam.
In December, it carried just under 40,000 passengers. While that was a slight uptick compared to November's figures, it still marks a 99% fall on the same month in 2019. Traffic for the month fell 98%, on capacity cut 91% year on year.
For the full year, Cathay passenger numbers plunged 87% to 4.6 million in 2020. Full-year traffic slumped 85% as the cut cut capacity 79% year on year.