Barely a week since its unveiling, the revived Monarch Airlines has changed its branding, ditching the logo and livery of the collapsed carrier that inspired it.
The latest iteration of Monarch Airlines emerged in mid-August via a new website – 'letsmonarch.co.uk' – and social media presence that featured the Spotty-M logo and purple and yellow colour-scheme long associated with the airline.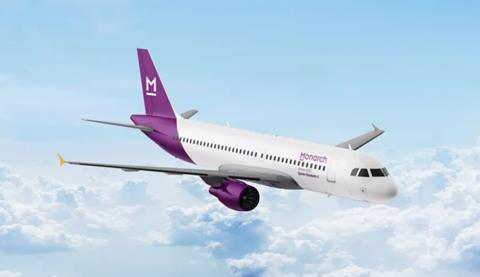 However, that carrier collapsed into administration in 2017 and its trademarks – the logo and the use of Monarch in relation to an airline – were acquired by another travel industry business, We Love Holidays.
Now, the new company, which is run by recently appointed director Daniel Ellingham, has unveiled a revised look, featuring a different 'M' logo and a livery that is predominantly purple and white. Its tagline now boasts, "Building on history, in order to create experiences."
But the company faces a delicate balancing act: on the one hand it is seeking to tap into the history and residual affection felt for the previous airline while simultaneously distancing itself from its failure.
The new website features lines harking back to the operator's previous incarnation, such as: "Monarch Airlines began operating in 1968 and was aimed at ordinary families and was founded with the express intent of transporting British holidaymakers.
"Fast-forward 55 years and we still hold the same Great British values close to our crown, which has taken on a new and dynamic look but which still symbolises everything we stand for."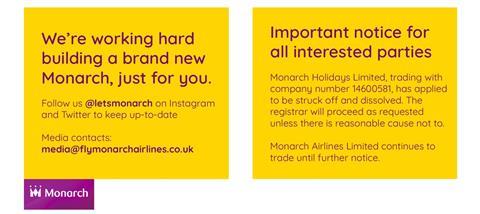 But in the 'frequently-asked questions' section, in response to the query "Didn't you go bankrupt?", it states: "Whilst the original Monarch did enter administration in 2017, we are a brand new and unrelated company with a new focus and team."
Separately, Ellingham on 24 August begun the process to dissolve related company Monarch Holidays. He was appointed director of both it and Monarch Airlines on 18 August following the acquisition of the businesses from their former owner.
Ellingham says the move is "part of Monarch's integration into our shareholders' wider plan and aspiration and will not affect our launch plans."
Monarch Airlines has yet to disclose the identity of its backers.
The carrier hopes to begin operations in 2024 using a fleet of Airbus A319 and A320 aircraft. Launch of an integrated online travel agency is expected by the end of 2023.

Dominic Perry is deputy editor of Flight International but also contributes extensively to flightglobal.com. Although specialising in the coverage of the helicopter industry, he has written on most topics in aerospace – be they commercial, defence or business aviation. In addition, there has been an increasing focus on the decarbonisation of the industry and zero-emission flight initiatives.
View full Profile