Rolls-Royce and Airbus are exploring the potential use of the A300-600ST Beluga outsize transport for the ad hoc movement of large civil aircraft engines.
Dominic Horwood, director of services at the UK propulsion specialist, says it has been working with the airframer "for some time" to develop the Beluga as a means of transporting its engines.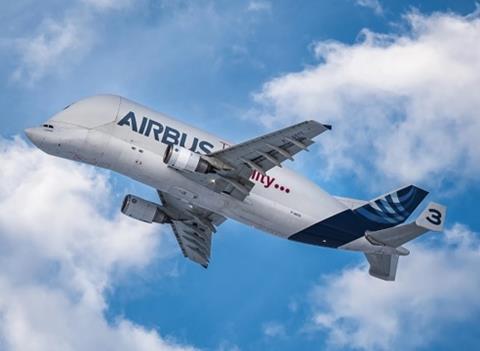 That requirement has become more pressing due to the war in Ukraine, which has reduced the number of high-capacity aircraft in the market, notably through sanctions imposed on the Russian-operated Antonov An-124 fleet.
"The Antonov offers productivity because of the number of engines you can get in it," says Horwood, who emphasises that it will continue to "support" Ukranian operators of the type.
But as an alternative "we have also been working with Airbus to explore the use of their Beluga". No engines have been carried so far, but "hopefully that is not far away", says Horwood.
In addition, R-R is examining the use of smaller commercial freighters or even sea freight.
Airbus has opted to establish a spin-off carrier, Airbus Beluga Transport, to take advantage of the outsize capabilities of the Beluga fleet given the -600ST's retirement from the airframer's internal logistics service.
This article has been edited to correct a job title in the second paragraph.

Dominic Perry is deputy editor of Flight International but also contributes extensively to flightglobal.com. Although specialising in the coverage of the helicopter industry, he has written on most topics in aerospace – be they commercial, defence or business aviation. In addition, there has been an increasing focus on the decarbonisation of the industry and zero-emission flight initiatives.