Ryanair is hoping that, following restoration of the Boeing 737 Max in Europe, certification of the specific high-density 737-8200 variant will shortly follow, allowing it to build a fleet of the jets ahead of summer.
The US FAA's flight standardisation board conducted an analysis of changes introduced for the -8200 variant in January.
This identified the -8200 as being "functionally equivalent" to the Max 8 and "operationally suitable".
It also validated a design differences table, put forward by Boeing, listing the minimum differences levels that operators must use to carry out differences training for crews.
The primary difference is the addition of an extra pair of exit doors to meet evacuation criteria for the -8200's increased accommodation of 197 seats, along with minor revisions introduced as part of routine safety oversight.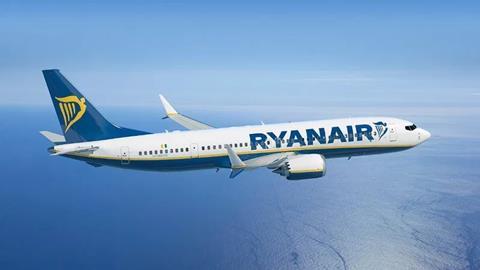 Additional training has been proposed to account for the design changes. "None of the proposed changes would affect the training curriculum that the FAA approved as part of the return to service of the 737 Max," the US regulator stresses.
The FAA has also made updates to the master minimum equipment list, with new relief for some items, none of which involves the automated flight-control system for the Max.
It has invited public comments on these draft updates to the documents until 24 February.
Ryanair recently ordered an additional 75 of the 737-8200 – taking its total firm commitment to 210 – and hopes the certification work will be completed in "the coming weeks".
It says this will enable the budget carrier to take delivery of up to 24 of the new aircraft before the peak summer 2021 season.
"This aircraft, when delivered, will be the most audited, most regulated in aviation history," it adds.
Ryanair agreed revised delivery dates with Boeing ahead of the augmented order along with compensation for the costs incurred by disruption associated with the grounding of the Max.
The airline says the current fiscal year remains the "most challenging" in its history, and is estimating a full-year net loss – before exceptional items – of €850-950 million ($1.03-1.15 billion).
This follows a €306 million loss in the third quarter to 31 December 2020, in contrast to the previous €88 million profit for the period, as passenger numbers dropped to 8 million and revenues sank by 82% to just €340 million.
Ryanair says the third-quarter loss does not include a €15 million exceptional charge for hedge ineffectiveness.
But the airline remains optimistic over its prospects during the recovery period as the new 737-8200 fleet arrives.
"We expect intra-European capacity to be significantly reduced for the next few years, which will create growth opportunities for Ryanair to take advantage of recovery growth incentives, as it takes delivery of [these aircraft]."