Thai Airways International has sold five Airbus A340-600s for Bt350 million ($13 million), ending a 13-year search for buyers.
According to a story in Thailand's Nation newspaper, quoting Thai chief technical officer Cherdphan Chotikhun, a contract has been signed for the long-decommissioned jets – though he did not identify the buyer.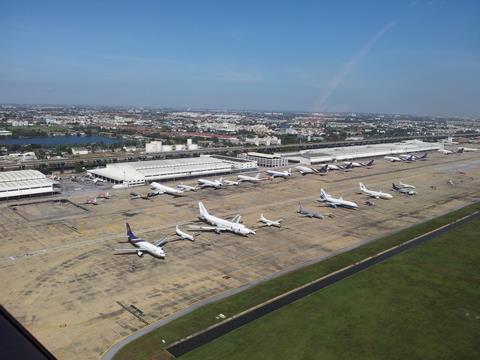 He adds that the transport ministry still needs to approve the sale, and that the aircraft fetched a price higher than their assessed value.
Thai did not reply to FlightGlobal's request for comment.
Chotikhun says that the airline's restructuring amid the coronavirus pandemic laid the groundwork for a successful sale.
"In the past, we were bound by regulations of state firms, which gave us almost no chance to sell the decommissioned planes," he is reported as saying.
"As a result, THAI had to shoulder the cost burden of the decommissioned planes for years."
According to Thai's aircraft trading web site, Thai has successfully sold nine A340s, comprising six -600s and three -500s.
Originally Thai operated 10 A340s, but one example was purchased by the Royal Thai Air Force for use by the country's royal family. The remaining A340s have been stored at Bangkok's Don Mueang International Airport.
THAI AIRWAYS IN SERVICE AND STORED FLEET
Aircraft Sub Series
Total In Service
Total In Storage
Average Age
737-400
0
3
29.8
747-400
0
9
23.3
777-200
0
6
25.6
777-200ER
4
2
15.5
777-300
0
6
22.8
777-300ER
16
1
7.4
787-8
6
0
7.7
787-9
2
0
4.9
A330-343E
0
11
12.3
A340-541
0
3
16.9
A340-642
0
6
16.5
A350-941
12
0
5
A380-841
0
6
9.8
All Aircraft
40
53
13.6
Source: Cirium fleets data
Thai's aircraft trading site indicates that it still has 14 aircraft for sale, comprising 12 Rolls-Royce Trent 800-powered Boeing 777-200/300s, as well as a pair of A380s.
Cirium fleets data indicates that the carrier has a total of 53 widebodies in storage, while its in-service fleet amounts to 40 aircraft.
The Nation quotes Chotikhun as saying that two stored 777-200ERs and three A330-300s will be reactivated in the fourth quarter of 2022, and that two A350-900s will be leased – Cirium shows that Thai has 12 A350-900s in service.