Supersonic aircraft developer Boom has partnered with US training support and services company Flight Research (FRI) to test its XB-1 technology demonstrator in a supersonic corridor stretching across the Mojave Desert.
Construction of the XB-1 is now under way at Boom's facility in Denver, Colorado, and flight testing is scheduled to begin later this year.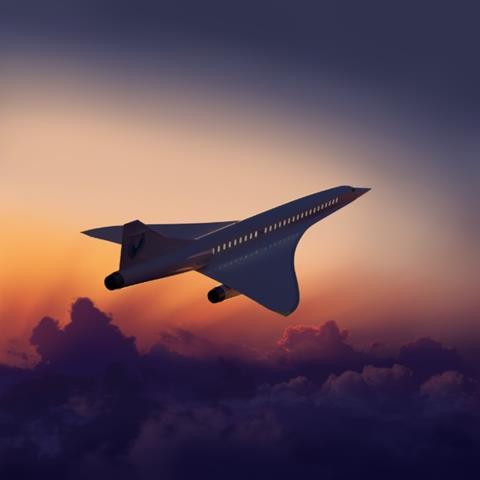 The demonstrator will be used to test and refine the final design of Boom's Mach 2.2 commercial aircraft, called Overture, which is expected to enter service in the mid-2020s.
Boom says under the terms of the deal, FRI will provide a hangar at its headquarters at the Mojave Air and Space Port to house the XB-1 flight-test effort. The company will also supply a two-seat Northrop T-38 Talon supersonic twinjet, which will be used both to train the XB-1 pilots and tail the XB-1 during flight testing.
Boom will also create what it calls a "custom state-of-the-art space" at FRI's Mojave base to support the XB-1. This includes a fully instrumented flight-test control room and an XB-1 simulator room with cockpit and visual displays.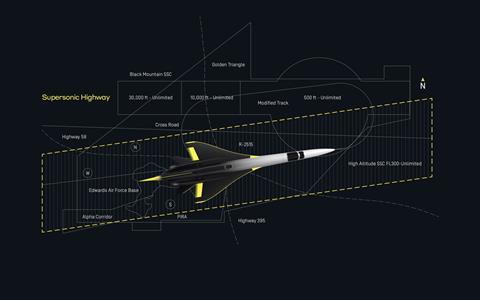 "Flight Research provides essential equipment and superior facilities [at Mojave], enabling us to finalise and fly XB-1," says Boom founder and chief executive Blake Scholl.
"We specifically selected the T-38 for our flight-test programme because of its similar flight characteristics and ability to chase the XB-1 through low-speed supersonic flight. This is an exciting time at Boom and we're glad to have a partner in FRI to help us get to the finish line."