Pilatus has handed over the 2,000 PC-12 single-engined turboprop, to US fractional operator PlaneSense.
Delivered at a special ceremony at the Swiss airframer's Stans headquarters on 12 May, the milestone aircraft is the 44th of the type for PlaneSense, which also boasts a fleet of 11 PC-24 light jets.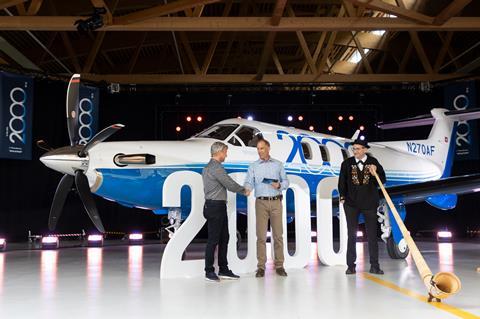 "We are honoured to receive the 2,000th PC-12. We took delivery of our first PC-12, the 20th built, in 1995," says George Antoniadis, PlanseSense founder and chief executive.
"This unique aircraft constitutes the backbone of our operation and has been an important part of the success of the PlaneSense programme."
Currently built to the NGX standard and powered by the latest Pratt & Whitney Canada PT6E-67XP engine, the original PC-12 entered service in 1994.
"Year after year, our PC -12 is, and will remain, the world's best -selling single-engine turboprop aircraft in its class with pressurised cabin," says Markus Bucher, Pilatus chief executive.
"We have continually developed our bestseller over the years and the current PC-12 is state of the art."
Cirium fleets data records 1,889 examples, both civil and military, in service, with a further 31 aircraft in storage. Pilatus holds a backlog for 63 units, the data adds. The airframer says it built 80 PC-12s in 2022.

Dominic Perry is deputy editor of Flight International but also contributes extensively to flightglobal.com. Although specialising in the coverage of the helicopter industry, he has written on most topics in aerospace – be they commercial, defence or business aviation. In addition, there has been an increasing focus on the decarbonisation of the industry and zero-emission flight initiatives.
View full Profile