Airbus Helicopters is already planning armed and cargo versions of the VSR700 unmanned surveillance rotorcraft it is developing for the French navy under the service's SDAM programme.
At present, the SDAM effort is focused on the development of an intelligence, surveillance, target acquisition and reconnaissance (ISTAR) platform that is capable of operating autonomously from naval vessels.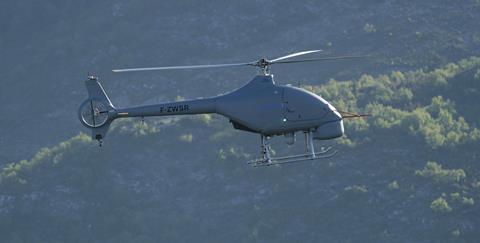 But Nicolas Delmas, head of the VSR700 programme, says that although the current priority is on the ISTAR mission, the 700kg (1,540lb) maximum take-off weight asset is "designed with the objective of being a versatile multi-mission platform".
He sees the VRS700 operating in a cargo configuration – either using a sling or an under-fuselage pod – as a simple step from the baseline ISTAR aircraft. "It is an important part of the growth potential we have in mind," says Delmas.
Other roles include anti-submarine or anti-surface warfare, or serving as an armed scout over land.
Weapons that could be integrated include laser-guided rockets, light and medium missiles, machine guns, and light torpedoes, he says, but will depend on customer demand.
Based on the Guimbal Cabri G2 manned helicopter, the VSR700 is fitted with a Continental Motors diesel engine to meet operating requirements; it should be capable of carrying a 300kg payload with 10h endurance. The powerplant is already certificated for fixed-wing aircraft and approval for rotary-wing flight should be received before the end of 2023.
Two fully mission-capable prototypes have been ordered by the French DGA defence procurement agency, with the first example performing its maiden sortie in 2019 and having so far undertaken envelope expansion work, including speeds of up to 80kt (148km/h). The second aircraft is currently in final assembly and should fly by year-end, says Delmas.
Guimbal supplies dynamic components, the engine and the airframe, which is slightly modified against the Cabri G2. The additional flexibility through not having to accommodate pilots has allowed drag "to be optimised to the maximum possible extent in order to fit all the necessary systems".
Development activities are supported by an optionally-piloted Cabri G2, which has been used to mature the control system and for key test phases including take-offs from a moving platform and autonomous take-offs and landings at sea, conducted in March this year.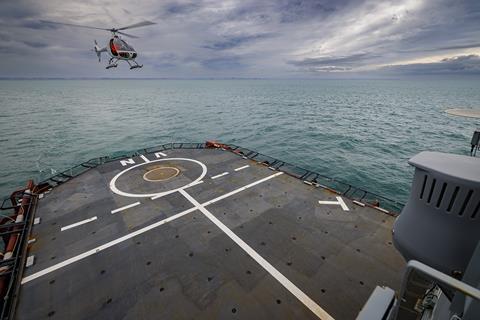 A second round of sea demonstrations with the first prototype should start in September. That should usher in a three-year period of "functional and maturity development", to be contracted this year, culminating in 2025 with trials aboard a French navy warship. Serial development tentatively runs from late 2025 leading to service entry in 2028.
Delmas sees France as having a requirement for around 20-30 VSR700 systems, but thinks there are also export opportunities. However, Airbus Helicopters has yet to decide how and where the helicopter will be produced.
"We have not finalised the industrialisation. It will depend on various parameters, there is one which is obvious which is volume: Guimbal is a small company and might not be able to support large volumes.
"When the clear serial opportunities arise, we will be in the position to choose the best industrialisation [route] but keep the important collaboration with Guimbal as much as we can, but refining the means and processes in accordance with the final volumes in particular," he says.
Delmas says there was no consideration given to designing a clean-sheet platform for the requirement given the performance offered by the Cabri G2, which he describes as the "perfect candidate".
"The Cabri G2 is, in our opinion, the best compromise we can have for the ISR mission in the maritime environment, which is our initial target, because it has the flight performance."
He singles out the three-bladed main rotor, which "provides tremendous flight performance compared with other helicopters of the same size".