Airbus Helicopters exhibited a full-scale mock-up of its H145M at the MSPO defence show in Kielce from 5-9 September, as Poland seeks replacements for its aged Mil Mi-2s.
"Poland is now involved in an ambitious modernisation programme… and there is a place for Airbus Helicopters, which can provide a great complement to the current and future fleet, especially in the advanced training of pilots," says Thomas Zeman, the company's head of sales, eastern Europe and CIS. "The H145M, based on a civil platform, is perfect for those tasks. It can be complementary to programmes already launched by the Polish government."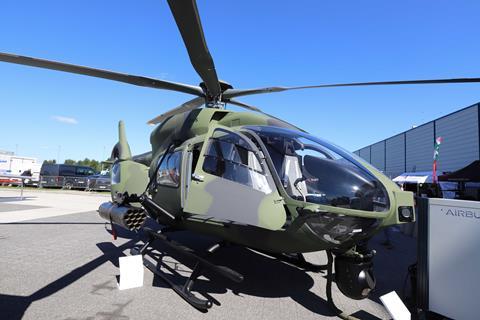 In 2020, Poland's Ministry of National Defence announced its intention to conduct a technical dialogue related to a planned acquisition of 32 multi-mission support helicopters to succeed its Mi-2s, via the Perkoz programme.
Candidate types would be capable of transporting five fully-equipped soldiers or 1,000kg (2,200lb) of cargo. The Perkoz requirement spans three variants, to be optimised for combat support and potentially pilot training; command and control; and reconnaissance and electronic warfare tasks.
Warsaw has 65 Mi-2s in active use with its air force (17), army (44) and navy (4), but while the youngest examples are more than 35 years old, it has yet to launch a formal tender for their replacement.
"The H145M can be a successor of the Mi-2 in some key missions, and [Airbus Helicopters'] HForce system allows the armed forces quick reconfiguration for a number of missions," Zeman says, including light-attack duties. "The H145M can be customised to exact requirements," he adds.
Airbus Helicopters also wants to offer the possibility of localising the supply of equipment for the H145M. "We are very ambitious in the level of cooperation we can propose to the Polish authorities," Zeman says. "We can cooperate with future development with Poland in the field of research and innovation and are eager to discuss it with the Polish authorities at a time convenient to them."
Zeman says the company could supply its baseline H145M – minus any Polish-specific adaptations – "in short time", adding: "We want to create strategic autonomy and local sovereignty for Poland."