The UK Royal Air Force's (RAF's) use of the Airbus Defence & Space A400M during last month's coalition airlift from Kabul demonstrated "remarkable operational utility", as the service looks toward a future without its smaller Lockheed Martin C-130Js, chief of the air staff Air Chief Marshal Sir Mike Wigston says.
In all, RAF air transport assets flew 84 sorties from Kabul, evacuating 15,000 people. Wigston says that on any single day, up to five of the service's Boeing C-17s were involved in the activity, along with three A330 Voyagers, two A400Ms and a pair of C-130Js.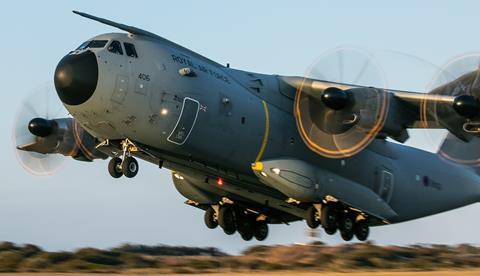 "We saw bravery, immense good judgement, professionalism and overwhelming compassion," he says, along with "tremendous availability and reliability across all our platforms."
The UK Ministry of Defence in March announced that operations with the RAF's remaining C-130J tactical transports will come to an end in 2023, with the type's responsibilities to the assumed by the Atlas force. The service has so far received 20 A400Ms, from a 22-aircraft order.
"Disaster relief operations in the Caribbean, Indonesia and Mozambique have already shown us that each Atlas can take the equivalent of three Hercules freight loads into harm's way," Wigston says.
"Week by week we are expanding its operational clearances ready to take the load, literally, from 2023," he said at the DSEI exhibition in London on 15 September. This process has included the recent completion of the RAF's first air-to-air refuelling of an A400M from a Voyager tanker/transport.
Noting that the C-130 – in its current J- and previous K-model guise – has been the RAF's "workhorse for over 50 years", Wigston cautions: "As we expand Atlas's operating envelope, the temptation would be to read across tactics and procedures directly from the Hercules. To do that would be an error and a failure to capitalise on everything this remarkable aircraft offers; its performance and capability demands an entirely different approach."