After Lockheed Martin recently delivered its 500th C-130J tactical transport, we look at the global fleet mix for its Super Hercules product.
Powered by four Rolls-Royce AE 2100D3 turboprop engines and equipped with glass cockpit avionics including head-up displays for its two-pilot flightcrew, the J-model Hercules entered service in September 1998, with lead user the UK Royal Air Force.
Lockheed in mid-March announced that the programme's milestone 500th aircraft – a stretched-fuselage -30-model example, numbered 5934 – had been delivered to the 130th Airlift Wing at McLaughlin Air National Guard Base in Charleston, West Virginia.
"This delivery represents the US government's continued transition to the C-130J as the common platform across the Air Force, the Marine Corps and the Coast Guard," the manufacturer says.
"The airlift choice of 26 operators in 22 nations, the global C-130[J] fleet has surpassed more than 2 million flight hours," says Lockheed, which had shipped its 400th example in February 2018.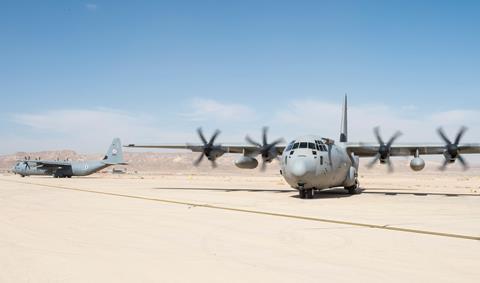 Lockheed says it has so far delivered the aircraft in 17 different mission configurations. Duties undertaken by the type include transport, in-flight refuelling, search and rescue, weather reconnaissance and firefighting, among others.
Cirium fleets data indicates that the current active Super Hercules inventory totals 481 aircraft. Of these, 477 are military-standard examples operated by Australia (12), Bahrain (2), Bangladesh (4), Canada (17), Denmark (4), France (4), India (12), Iraq (6), Israel (7), Italy (19), Kuwait (3), Norway (4), Oman (3), Qatar (4), Saudi Arabia (2), South Korea (4), Tunisia (2), the UK (15) and the USA (353).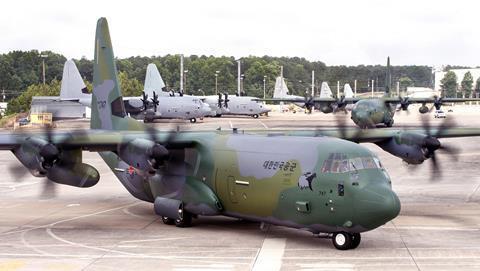 This means that 26% of all C-130Js in current use are employed by international customers, with the remainder operated by the US Air Force (273; 57%), US Marine Corps/Navy (65; 14%) and US Coast Guard (15; 3%).
The additional four units are commercial-model LM-100Js: three flown by Pallas Aviation and the other operated by the Algerian air force.
Cirium data records seven aircraft as being stored or awaiting introduction, including Germany's lead example and an ex-RAF transport being prepared for transfer to Bangladesh.
A dozen J-model Hercules have been written off in accidents, with these owned by India (1), Italy (2), Norway (1), the UK (2) and the USA (6).
Lockheed continues to produce C-130Js at its Marietta site in Georgia, at an annual rate of up to 24 aircraft.
Germany is currently working to introduce its first example from an order for three -30 transports and the same number of KC-130J tankers, while future operator Indonesia also recently ordered five of the airlifters.