Finland has asked all five bidders involved in its HX fighter contest to submit best and final offers by 30 April, ahead of a type selection decision at "the end of 2021".
"The request for best and final offer and the expected binding offers from the tenderers is the final phase of tendering in the HX fighter programme," the Finnish Defence Forces Logistics Command says.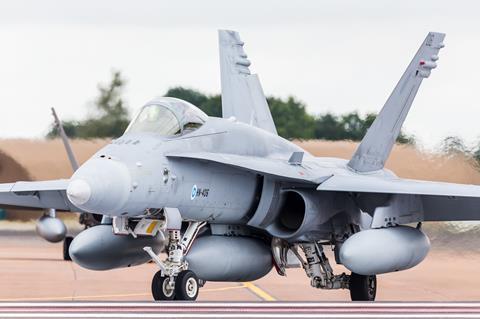 Models in contention for the deal are the Boeing F/A-18E/F Super Hornet, Dassault Rafale, Eurofighter Typhoon, Lockheed Martin F-35A, and Saab Gripen E/F.
"With the request for best and final offer, each tenderer is requested to compile the information provided in the previous tenders and negotiations into a final and binding package," it adds.
The Finnish parliament has already approved €9.4 billion ($11.4 billion) in funding to acquire replacements for the nation's current F/A-18C/Ds.
"The HX options of each tenderer differ as to the costs of introduction into service, construction needs and integration into the defence system," the logistics command says. "This is why each tenderer will be given a tenderer-specific price limit, and, in addition, a similar option will be included for each tenderer for later purchases and contractual changes. Therefore, the price ceiling set for each tenderer is about €9 billion."
Helsinki says it is using four criteria to judge the candidates: military capability; security of supply; industrial participation; and costs. "Security and defence policy implications will be assessed separately outside of the actual tendering process," it adds.
Bids which pass an assessment process following the submission deadline will undergo a final capability assessment, "taking into account the packages offered and the capability values verified on the basis of testing events". There will also be a "long-term war game to determine the operational efficiency of each candidate's HX system".
A type selection will be forwarded for government approval before year-end, with the new model due to enter service from 2025.