Until recently, if you performed a roll-call of the countries considered as possible candidates to purchase the Bell Boeing MV-22 Osprey tiltrotor – think Israel or the UK, for instance – Indonesia would likely not have featured on what is a relatively short list.
Generally, Jakarta's major airpower acquisitions are signalled well in advance. Its odyssey to buy Sukhoi Su-35s has lasted nearly a decade and finalising the deal has proven elusive. The country's interest the Airbus Defence & Space A400M tactical transport is long known, as is its long flirtation with the Boeing CH-47F Chinook.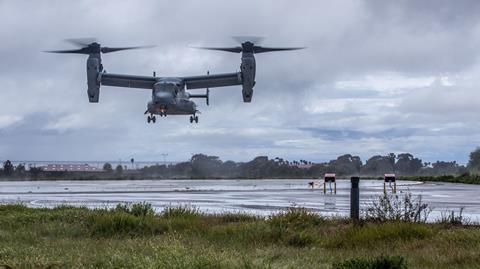 Hence the surprise when, amid a spate of congressional arms sales notifications, the US Defense Security Cooperation Agency (DSCA) on 6 July said Washington had approved the possible sale to Indonesia of eight MV-22 Block Cs for $2 billion, alongside spares, training, and support services.
"The proposed sale of aircraft and support will enhance Indonesia's humanitarian and disaster relief capabilities and support amphibious operations," said the DSCA. "This sale will promote burden sharing and interoperability with US Forces. Indonesia is not expected to have any difficulties absorbing these aircraft into its armed forces."
The Jakarta Post subsequently reported that few in the Indonesian military knew about the potential deal. The paper also said that the MV-22s would serve with the Indonesian army. If so, the Osprey would be a quantum leap for the service, which operates a ragbag assortment of rotorcraft that includes Bell 412s, Russian-built Mil Mi-8 transports and Mi-35 attack helicopters, and several others. More recently, it took delivery of eight Boeing AH-64E Apaches.
Bell says congressional notification is a crucial step in a Foreign Military Sales (FMS) deal and that the total cost could be under the stated figure.
"Following congressional notification, we look forward to working closely with the US and Indonesian governments to determine the contents and price of the FMS case and to finalise this sale," says Bell.
"The $2 billion only represents the 'Not to Exceed' amount authorised by Congress and we anticipate the cost to be lower. Currently the US military is buying the V-22 under the Multi-Year Procurement III [MYP III] contract. Completion of this sale in 2020 will allow Indonesia to receive the MYP III pricing already negotiated by the US government for its aircraft."
Even if the package comes in below $2 billion, the history of Indonesian arms acquisitions means signing off a deal in 2020 might be optimistic.
Still, on paper at least, the Osprey is perfectly suited to a sprawling archipelago with thousands of islands, facing challenges including natural disasters, separatist uprisings in far-flung provinces, and China's belligerence in the South China Sea.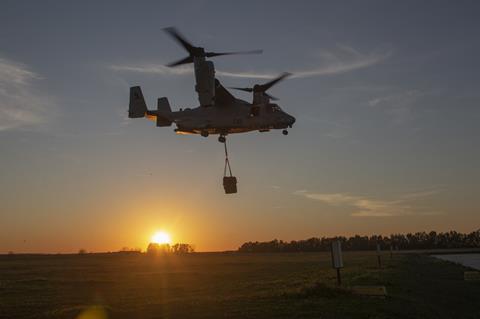 "For the past decade the military has endeavoured to boost its maritime defences, but China is not the only explanation for [an Osprey] purchase," says Natalie Sambhi, an expert on Indonesian military affairs, and founder and executive director of Verve Research.
"Indonesia continues to experience a range of internal security and humanitarian issues that would require insertion of forces at short notice, including unrest in Papuan provinces. Also, you cannot discount the element of prestige, being the only country in Southeast Asia to have purchased the Osprey."
Indeed, should the Indonesian army obtain the Osprey it would be the type's fifth operator, after the US Marine Corps (USMC), US Air Force and US Navy, and current sole export customer the Japan Ground Self-Defence Force.
But even if that $2 billion price cap is not reached, some perspective is offered by Indonesia's overall proposed defence budget for 2021, which is tentatively pegged at Rp150 trillion ($10.3 billion). While this is an increase of around 20% on the 2020 figure, any Osprey acquisition would represent a major chunk of that total and would face competing claims from the country's other services. In addition, the defence budget is all but certain to be a casualty of the financial downturn following the coronavirus pandemic.
"The price is significant in contrast to the defence budget, and the maintenance and operating costs would be another financial challenge," says Wu Shang-Su, research fellow at Singapore's S Rajaratnam School of International Studies.
Sambhi and Wu also contend that for the MV-22 to be effective in Indonesian service, Jakarta will need to beef up its aerial refuelling capabilities.
Tankers, however, would appear to be a far more urgent priority for a country as vast as Indonesia: Cirium fleets data shows that the Indonesian air force operates a single 1961-vintage Lockheed Martin KC-130B for that mission. Tiny Singapore, by contrast, has five Airbus Defence & Space A330 multi-role tanker transports (MRTTs), with an additional unit to come. The MRTT is also operated by the Royal Australian Air Force, with six examples in its inventory.
Sustainment could be another challenge for Jakarta. Over the years the Osprey has suffered its share of availability issues. Anecdotally at least, Indonesia's armed forces are understood to take a less rigid approach to aircraft maintenance than other militaries.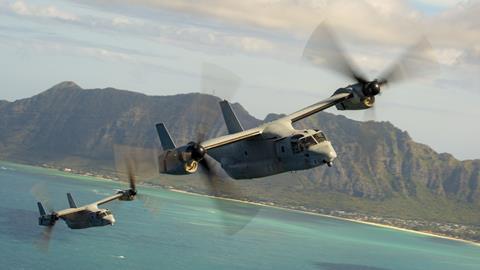 And then come concerns about safety, as exemplified by Indonesia's loss of five C-130s since 2000. In July 2015 a particularly horrific crash saw an Indonesian C-130B come down in a Medan suburb while carrying well over 100 people, many of whom were relatives of air force personnel. Media reports suggested that unofficial tickets had been sold.
As for the army, it has lost nine helicopters and a single fixed-wing aircraft since 2000, resulting in 49 fatalities. The most recent mishap occurred on 6 June, when an Mi-8 crashed during a training sortie, killing five.
Still, one factor that might work in Indonesia's favour should it buy the Osprey is the depth of its aerospace sector, with indigenous manufacturer Indonesian Aerospace in Bandung, as well as a vibrant commercial MRO industry.
"Although the previous record of safety is not very good, Indonesia probably has the largest aviation talent pool in Southeast Asia, thanks to its industry," says Wu.
"Therefore, Jakarta may be able to train sufficient personnel to maintain and support the Osprey. It is indeed a challenge, but also an opportunity for Indonesia to expand its aviation capabilities. Since Jakarta has a clear goal of moving towards [being] a regional power, it is likely for them to take the challenge."
Since replacing its ancient Boeing CH-46 Sea Knights, the Osprey has enabled the USMC to employ bold new tactics and given it a vastly greater reach. It is difficult to imagine a contingency in Indonesia – or anywhere, for that matter – where an aircraft as capable as the Osprey would not prove useful.
Still, this capability comes with very real costs – flying the V-22 is not cheap – and challenges. Buying highly advanced military aircraft is hard. Keeping them flying for years often proves harder.

Greg Waldron is the Asia Managing Editor of FlightGlobal, responsible for the team's airline, aerospace, and defence coverage across the region. He has worked at the company since 2009. In the airline space, Waldron has conducted dozens of interviews with airline leaders in the Asia-Pacific. He also covers areas such as MRO and safety. On the defence beat, Waldron has written extensively about the rise of Chinese airpower, as well as broader airpower developments around the region, such as indigenous fighter programmes, and regional acquisitions of foreign equipment. In addition, Waldron writes about commercial helicopters in the region and business aviation. Waldron worked has a freelance journalist with his work appearing in several business publications.