Italy remains in negotiations with Boeing over a planned acquisition of replacement in-flight refuelling tankers, with its air force planning to field an expanded fleet of new-build KC-767Bs.
"We plan to increase the fleet by 50%," says Lieutenant General Enrico Degni, the Italian air force's air mobility and support forces commander. "The entire programme will take probably eight or nine years, and in the end we will have six tankers in this configuration."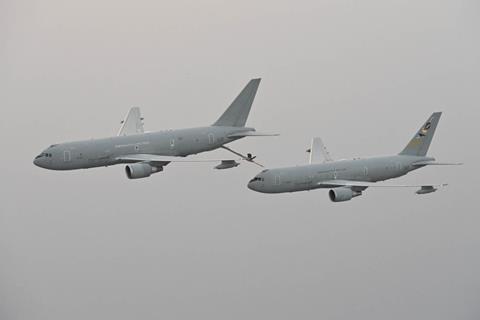 The Italian air force introduced its current four-strong fleet of KC-767As to operational use from 2011, following extensive programme delays.
Degni notes that the small global fleet of the model – Japan is the only other operator, having fielded the same number of KC-767Js – has resulted in a high cost of ownership and increasing obsolescence issues. By contrast, its future B-model examples will retain maximum commonality with the US Air Force's in-service KC-46A Pegasus tanker.
"To avoid incurring non-recurring costs like in the previous case, we will be taking the aircraft to the maximum extent possible as it is right now," Degni said during Defence IQ's Military Airlift conference in London on 5 September.
Italy can operate its current aircraft in a dedicated tanker or full passenger configuration, but ordinarily flies them in a combi mode with 100 seats and a 10-pallet capacity. Its fleet usage is split as 49% for air-to-air refuelling, 28% passenger and 23% cargo, Degni says.
Notably, Italy's current aircraft lack self-protection, secure communications and datalink equipment, restricting them to operating in non-contested environments.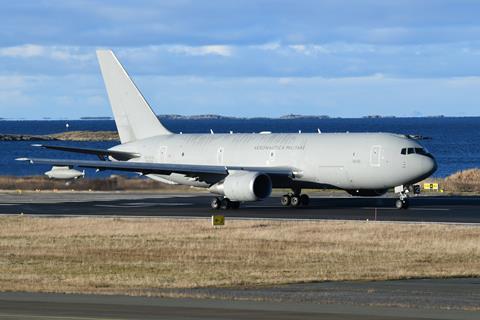 Rome had initially explored the possibility of upgrading its existing KC-767As to the new standard, but this was ruled out, with the type to leave use by no later than 2035. It first detailed its six-aircraft acquisition plan as part of a planning document last November.
Degni says a contract for the new KC-767Bs is expected to include a clause under which Boeing will buy back its earlier airframes. Talks are understood to be continuing around industrialisation aspects of the acquisition.

Craig Hoyle joined Flight International in 2003, and has edited the now monthly title since 2015. He has reported on the UK, European and international military aviation sector for more than 25 years, and produces our annual World Air Forces directory.
View full Profile