The developmental Korea Aerospace Industries (KAI) KF-21 Boramae fighter continues to expand its flight envelope, with more prototypes set to join the testing campaign.
Following the KF-21's maiden flight on 19 July, five additional prototypes are set to join the flight test campaign from October, according to South Korea's Defense Acquisition Program Administration (DAPA).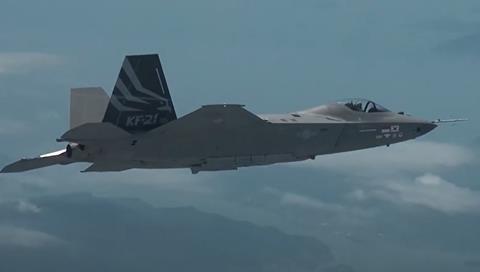 Overall, the campaign will run to 2,000 flights, with development expected to be completed by 2026.
DAPA's programme update coincided with a 28 September ceremony at KAI's factory at Sacheon attended by South Korean government officials and Indonesia's defence establishment – Jakarta is a 20% partner in the W8.8 trillion ($6.15 billion) programme.
In an interview with official news agency Yonhap, DAPA chief Eom Dong-hwan said that the KF-21 is likely to break the sound barrier during the first quarter of 2023.
Eom also told Yonhap that Jakarta has paid just 30% of its share via unspecified "in-kind" payments, and that no payments have been made since 2017.
Jakarta's tardiness with payments has been a persistent issue for the programme, although Indonesian president Joko Widodo and South Korean president Yoon Suk-Yeol reaffirmed their countries' joint commitment to the KF-21 in July.
"Indonesia has not clearly explained yet when it would make the overdue payments, but the overall atmosphere is very positive," says Eom. "Though they may not make the payments all at once, we expect them to proceed gradually."
According to a statement by Indonesia's defence ministry, deputy defence minister M. Herindra attended the Sacheon ceremony. While he sounded upbeat about the KF-21, he apparently made no mention of payments.
At present, 37 Indonesian personnel are in South Korea working on the project, and Herindra indicates that the aim is to raise this number to 100.
"Indonesia remains committed to supporting the sustainability of the joint development of the KFX/IFX combat aircraft programme, and increasing cooperation in the defence sector between the Indonesian government and [South Korea]," says Herindra.
Powered by two GE Aviation F414 engines, the KF-21 will replace McDonnell Douglas F-4 Phantoms and Northrop F-5s in South Korean service. Seoul is expected to obtain 120 and Indonesia 50, while the former also hopes to sell the type on the export market.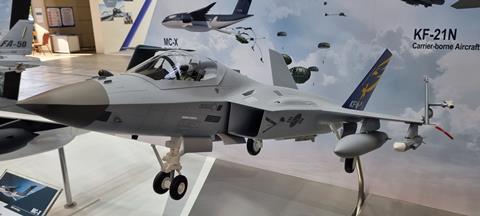 At the recent DX Korea 2022 show, KAI displayed a model of a prospective naval variant, the KF-21N. Media reports indicate that the jet would be capable of operations from both catapult assisted take-off but arrested recovery and STOBAR short take-off but arrested recovery vessels.
Seoul has been flirting with the idea of developing an indigenous aircraft carrier, but has yet to fully commit to the project.