MD Helicopters (MDHI) expects to start deliveries of six MD 530G light scout attack helicopters to Malaysia in the first quarter of 2020.
When ordered in early 2016, plans had called for deliveries to start later that year, but MD Helicopters explains that this was delayed at the behest of Malaysian prime contractor, Destini Group.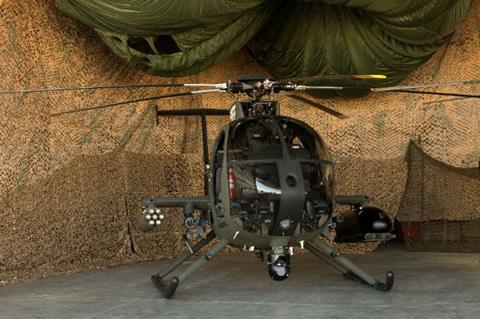 "MDHI can confirm that the delivery dates outlined in the initial customer contract were modified by/in accordance with our Malaysian customer's requests," says the company.
"Our customer, the Prime Contractor (Destini Group), requested updated delivery dates and we complied. We have been performing in accordance with the contractual requirements and are committed to the full and proper execution of this contract. The currently contracted delivery date is within the first quarter of 2020."
The original prime contractor in the deal was local firm Halaman Optima. In 2017 Destini acquired a 70% stake in the company. The overall value of MD 530G contract is understood to be MYR322 million ($77 million).
The MD 530G sale occurred before the Malaysian general election in 2018, which resulted in a shock upset of then prime minister Najib Razak. Razak's cousin, Hishamuddin Hussein, was defence minister at the time of the deal.
In late November the country's current defence minister, Mohamad Sabu, had this to say about the MD 530G acquisition in Malaysia's parliament: "For the 6 helicopters, we have received a report from [former auditor general] Ambrin Buang, and we are conducting internal investigations. Decisions will be made by the cabinet in the near future. If not this week, it could be next year or before the year end on a final decision on the six helicopters that we have ordered but did not arrive today, which we have paid MYR112 million, or around 35% [of the contract value]."
MD Helicopters stresses that its agreement is with Destini - not the Malaysian government.
The original sale was important for MD Helicopters; Malaysia was set to be the launch customer for the upgraded G-model. First flown in 2013, the MD 530G features a higher maximum take-off weight of 3.75t and a top speed of over 130kt (240km/h).
"Our agreement is with the Prime contractor only, not directly with the Malaysian government, and it was and continues to be executed in good faith and in accordance with all laws/rules/regulations related to direct commercial sales and US/Malaysia import/export guidelines. The Prime contractor requested updated delivery dates and we complied."