Lynn Tilton has resigned as chief executive of MD Helicopters after a bankruptcy court orderer that she sell the aircraft manufacturer to repay debts to her holding company Patriarch Partners.
Patriarch Partners defaulted on $1.7 billion in loans owed to financier Zohar, according to a report in The Wall Street Journal. Zohar sued the company to force it to sell off its businesses, including MD Helicopters, to repay the debt. MD Helicopters confirmed Tilton's resignation to FlightGlobal.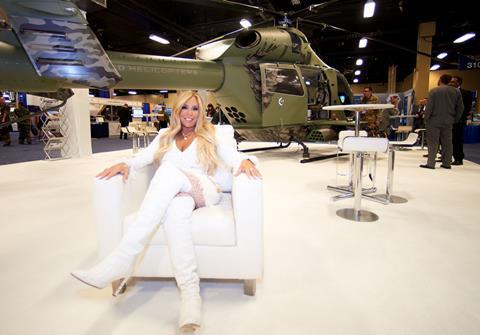 Facing a bankruptcy court order to sell businesses, Tilton allegedly walked away and abruptly resigned from her position as CEO, say Zohar's lawyers.
"Ms Tilton abandoned them on Saturday (21 March) without any notice," says Michael Nestor, an attorney for Zohar, to the Journal. Zohar's lawyers did not respond to a request for comment.
MD Helicopters disputes the claim that Tilton abandoned the company. It says she resigned on Monday, 23 March 2020. Patriarch Partners did not respond to a request for comment.
"Ms. Tilton resigned only after it became clear that the [Patriarch Partners] portfolio companies, of which [MD Helicopters] is one, were being adversely impacted by the Zohar disputes, and the Zohars refused to grant the portfolio companies adequate loan extensions," says MD Helicopters. "Ms. Tilton has pledged to reasonably cooperate with the Zohar Funds to transition control of the portfolio companies. Contrary to the Zohar funds' contentions, Ms. Tilton at no time "abandoned" the companies."
In addition to MD Helicopters, Patriarch Partners owned a mixture of 21 industrial, software, cosmetics, household goods and lifestyle businesses, including mapping company Rand McNally and metal foundry Vulcan Engineering.
MD Helicopters says Tilton still has ownership stakes in those companies.
"Lynn remains in her director position with MD Helicopters," says the manufacturer. "In addition, Ms. Tilton remains a large secured lender to, and shareholder of [MD Helicopters] and many of the portfolio companies, and continues to have rights in connection with those investments."
The company will be led by its "existing senior leadership team", says MD Helicopters.
"Ms. Tilton worked with the company management team to prepare for a smooth transition, including to prepare for any business disruptions that may be caused by the COVID-19 crisis," says the firm.
MD Helicopters of Mesa, Arizona is a spinoff of Boeing's 1997 merger with McDonnell Douglas. The company was originally founded by Howard Hughes and was a part of Hughes Aircraft before being bought by McDonnell Douglas in 1984.
The company makes light helicopters for military, police and emergency services. Its Armed MD 530 was sold as a scouting and light attack helicopter to Afghanistan, Kenya and Lebanon in recent years.
The single-engined MD 530 is based on the Vietnam War-era Hughes OH-6 Cayuse. Boeing makes a similar light attack, scouting and utility helicopter for US special forces called the AH-6 Little Bird. That helicopter is also based on the OH-6.
MD Helicopters disputed Boeing's right to sell the AH-6 Little Bird. The two companies had a long-running legal dispute. Ultimately, MD Helicopters lost its argument in an arbitration case decided in February 2020 in which it was ordered to pay Boeing $11.6 million.
Despite losing its chief executive and being caught in a bankruptcy fight, MD Helicopters says it is a "viable, thriving, promising businesses".

"MD is fully executing all of its military and commercial contracts as well as supporting worldwide operations through its global network of field service personnel and authorised sales, service and distribution partners", the company says.
Updated: Article changed on 27 March to include comments from MD Helicopters.