MD Helicopters chief executive Lynn Tilton acknowledges her MD6XX project continues to suffer delays as the small manufacturer juggles work with its other helicopter models.
The Mesa, Arizona-based rotorcraft maker unveiled a mock-up of the MD6XX in 2017, and promised to complete certification by the end of 2018. The model has yet to be certificated.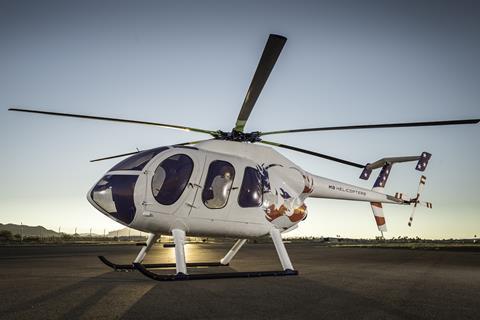 "It's just fallen behind," Tilton says at a presentation at Heli-Expo in Anaheim, California on 28 January. "We are a small company and we've had to set priorities. It's not gone away, but we have not been putting dollars into it. The question will become, when we can get to it, is that is this the aircraft we want to build bottom up or is there some other design we want to take?"
The MD6XX concept is described by the company as "a next-generation, multi-mission helicopter that will set new standards for power, performance and multi-mission capabilities across military, law enforcement, EMS/air medical, and special operations markets." In 2018, Tilton said certification may come in 2020, but this now also looks increasingly unlikely.
The design of the MD6XX resembles the shape of the MD600N, but replaces the NOTAR anti-torque system with a four-bladed rotor. The MD6XX was also planned to be loaded with new technologies, including S411 main rotor blades, an extended composite tail boom, a Genesys Aerosystems glass cockpit, boosted flight controls and a three-axis digital autopilot.
The small manufacturer, whose flamboyant chief executive calls herself "the dominatrix of MD helicopters", builds helicopters for civilian, policing and military uses. The company takes pride in being "a commercial and military contractor serving those who serve our country."
In November, MD Helicopters delivered its final five MD530F rotorcraft to the Afghan air force as part of a 30-example order the company received in September 2017. They are part of the $1.4 billion indefinite delivery/indefinite quantity package the company signed with the US government in September 2017 that covers up to 150 MD530 rotorcraft for partner nations.
"We finished 30 for Afghanistan. We have delivered 60 in all now, and have an order for another 12," Tilton says at the Heli-Expo show. "We delivered six aircraft to Kenya and our pilots are over there for military training, and we are finishing up our aircraft for Lebanon as well."
Tilton adds MD Helicopters had some issues with certifications in 2019, leading to fewer deliveries, but therefore it invested a great deal in research and development and new technologies. "In 2020, my number one priorities are getting certifications and technologies complete. The problem is, you get busy and everything stops. This is the year the 902 comes back, getting technology into the market and focusing on safety."
MD Helicopters and Universal Avionics announced a strategic partnership earlier on Tuesday that would integrate UA's advanced InSight Display System - an instrument-flight-rules-capable full-digital flight deck - into MD Helicopters' MD 900/902 Explorer aircraft. The company says it will integrate the InSight Display System into the production and retrofit of the twin-engined helicopters.
The MD902 is a multipurpose, twin-engined helicopter that doesn't have a tail rotor. Instead, its NOTAR anti-torque system uses jet fan thrust to prevent torque rotation.
The manufacturer says the helicopters are designed to support a range of missions including offshore transport, law enforcement, emergency medical services, and search and rescue.
"A little delay will make this aircraft a better aircraft," Tilton says. "It's state-of-the-art and safer, and has more capability than anything we have done before."