The US Naval Air Systems Command (NAVAIR) is expediting the development of a system that improves low-speed performance of the Sikorsky CH-53E Super Stallion helicopter in poor visibility conditions.
US Marine Corps (USMC) operations in the Middle East have showed that in "brownout" conditions caused by sand billowing up from landing zones, helicopters have a tendency to "drift" when attempting to land and take off, NAVAIR says.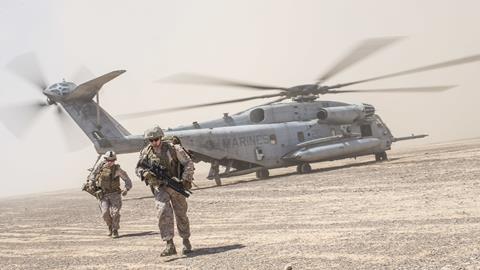 The developmental low speed precision control (LSPC) system augments flight controls that reduce crew workload during brownouts.
Though LSPC was already in development, NAVAIR elected to use its "other transaction authority", or OTA, to place a contract in just four months. The project will see an LSPC box tested in a simulator, followed by tests with a CH-53E in brownout environments.
"Our job was to contract and develop the LSPC system and prepare it to integrate into the CH-53E and eventually other legacy rotorcraft," says USMC Lietenant Colonel Michael J Shull.
"The fleet needs LSPC and we were determined to get the process underway so it could get to them as soon as possible."