The US Transportation Command (USTRANSCOM) has partnered with Space Exploration Technologies Corporation (SpaceX) to study delivering tens of thousands of kilograms worth of cargo to anywhere on Earth within about an hour using the aerospace company's vertical landing rockets.
A proof-of-concept demonstration could come as early as next year, US Army General Stephen Lyons, commander of USTRANSCOM, said during the National Defense Transportation Association's Fall Meeting on 6 October. An earth-hopping rocket would be able to deliver materiel for time-sensitive contingencies or for humanitarian assistance, he adds.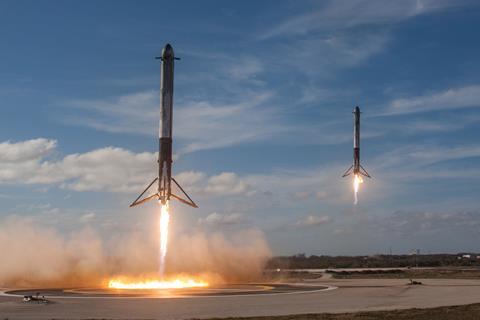 "Think about moving the equivalent of a [Boeing] C-17 payload anywhere on the globe in less than an hour," Lyons says. "Think about that speed associated with the movement of transportation of cargo and people. There is a lot of potential here and I'm really excited about the team that's working with SpaceX on an opportunity, even perhaps, as early as '21, to be conducting a proof of principle."
The C-17 strategic airlifter can carry a payload of about 77,500kg (171,000lb).
SpaceX's reusable Falcon 9 rocket can carry a 22,800kg payload to low-Earth orbit. However, it is not clear what altitude the rocket would need to reach for point-to-point hops around the Earth. It is also not clear how much weight the rocket could carry on its descent as typically the first stage lands back on the ground without its second stage or payload.
"For the past 75 years or so, we have been constrained to around 40,000ft altitude and 600mph [521kt] in our very fastest method of logistics delivery – airlift," says USTRANSCOM deputy commander US Navy Vice Admiral Dee Mewbourne, who leads the command's effort on rocket cargo hops. "Now, what are the possibilities for logistical fulfillment at about 10 times those figures, when the need for support on the other side of the world is urgent? It's time to learn how our current strategies to project and sustain forces can evolve with a new mode of transportation."
The space cargo concept is being facilitated via a Cooperative Research and Development Agreement, a partnership in which industry participates voluntarily without federal funding. The partnership also includes Exploration Architecture Corporation, a spacecraft architecture consulting business.
Over the past several months, the US Department of Defense has taken a renewed interest in high-speed transportation. It has funded several research projects to create military variants of commercial supersonic and hypersonic aircraft already in development. Those potential fast jets are intended for the future Presidential and Executive Airlift fleet.
USTRANSCOM notes that rocket payloads currently are smaller in terms of weight and volume compared to conventional cargo aircraft. The technology would also face difficulties figuring out positioning, launching, and recovery operations, the command says.
Rapidly calculating a rocket's trajectory during an urgent situation and determining the best flight path around weather or hostile military forces is also unproven. It is also not known how a rocket such as the Falcon 9 – which stands several stories tall upon landing – would be quickly unloaded once its reached its destination.
Nonetheless, USTRANSCOM is eager to start working out the concept's technical issues in order to seize on what it sees as a game-changing technology.
"Commercial space transportation would allow point-to-point rapid movement of vital resources while eliminating en route stops or air refuelling," says the command. "This capability has the potential to be one of the greatest revolutions in transportation since the airplane."