Ukraine's defence intelligence directorate claims saboteurs have badly damaged a military Antonov An-148 and Ilyushin Il-20 parked at the Moscow Chkalovsky air base.
The directorate also states that a second An-148 received minor damage while the tail of a Mil Mi-28N helicopter was also hit during the 18 September attack.
Such is the damage, it claims, that the aircraft – from the 354th special purpose aviation regiment – will not be "quickly repaired".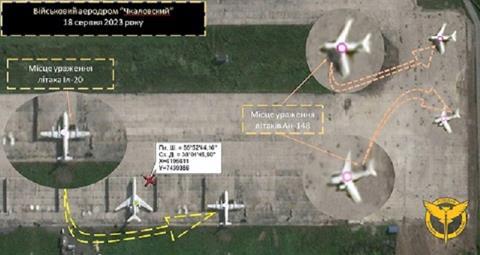 An-148s were a product of Ukrainian-Russian co-operation before the deterioration of political relations between the two sides.
Antonov developed the high-wing twinjet as a regional airliner, but the type was also manufactured in Russia with some aircraft assigned to the Russian armed forces.
Chkalovsky air base, some 30km northeast of Moscow, hosts several government aircraft. The Il-20 is a military surveillance variant of the Il-18.
The attack with explosives which, according to the directorate's statement, was conducted by "unknown saboteurs" has not been independently verified. The helicopter, it says, had been used to shoot down unmanned aerial vehicles over the Moscow region.
Satellite images purportedly showing the An-148s and Il-20, as well as a Tupolev Tu-154, parked at the air base on 18 September have been released by the directorate, along with grainy photographs apparently captured over a perimeter fence, although they do not appear to contain conclusive evidence of the attack.