Saudi Arabia's Intra Defence Technologies has unveiled its Samoom medium-altitude, long-endurance unmanned air vehicle (UAV), with the design to be optimised for intelligence, surveillance and reconnaissance tasks.
On display as a half-scale model dominating the company's stand at the inaugural World Defense Show in Riyadh, the twin-engined Samoom is 11m (36ft) long and has a 24m wingspan.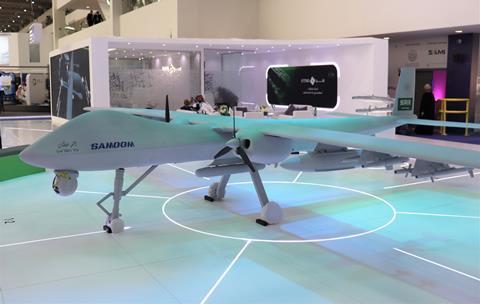 The UAV will carry a new 20in electro-optical/infrared sensor to be jointly developed by Intra and Hensoldt. It could also be armed with 1,050kg (2,310lb) of air-launched weapons mounted on underwing hardpoints.
Additional duties for an operational system could include performing border surveillance and pipeline monitoring, Intra says.
Operational endurance will be in the 20-50h range, with the UAV to fly at up to 25,000ft, says Intra's Mohammed Aliehani.
The new design joins a product range which already includes the vertical take-off and landing Asef series and the tactical Haboob. Developed from a Turkish design named Karayel and optimised for use by the Saudi armed forces, the Haboob has flown more than 23,000 operational hours, says airborne systems director Anthony Gudgeon.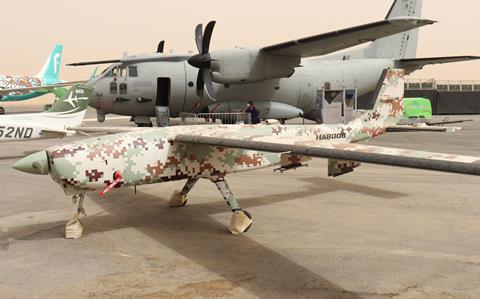 Manufacturing work on a prototype Samoom has yet to begin, and Gudgeon says development work could be completed within around three years.