Spain has picked MBDA's Brimstone air-to-surface missile to bolster the ground-attack capabilities of its Eurofighter fleet, with a contract yet to be finalised for the weapon's purchase and integration.
The Spanish air force's Eurofighters are currently armed with GBU-10 907kg (2,000lb) and GBU/EGBU-16 453kg precision-guided bombs, in addition to deploying MBDA Meteor or Raytheon AIM-120 AMRAAM and Diehl Defence IRIS-T air-to-air missiles.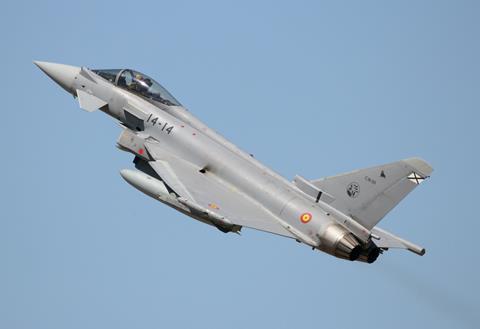 Integrating the 50kg Brimstone will add an all-weather capability to strike small and moving ground targets, which is already employed operationally by the UK Royal Air Force's (RAF's) Eurofighter Typhoons.
"Hopefully by the end of next year we will be able to carry the Brimstone, which Spain is acquiring," 14th Wing Air Group chief Lieutenant Colonel Jesus Salazar Ortiz de Landazuri said at Albacete air base on 13 December.
The unit currently has 31 Tranche 2 and 3 Eurofighters assigned to its 141 Sqn, all configured with P2EB-standard software. The service also plans to reform its 142 Sqn at the site during 2024, once additional pilots are available to fly the type.
Introduction of the new weapon by 141 Sqn will follow the completion of work by the Spanish air force's operational evaluation unit in Madrid, with the RAF also having offered to support the process. The frontline squadron will then conduct its own evaluation and develop tactics, techniques and procedures for its use, Ortiz de Landazuri says.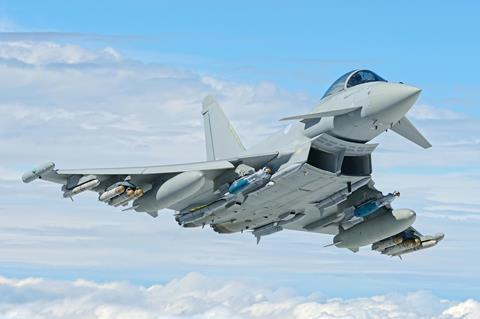 MBDA acknowledges the selection, but declines to comment further until a deal has been signed with Madrid.
Brimstones are carried on the Eurofighter using three-round rail launchers installed beneath the wing.
Meanwhile, some of 141 Sqn's Eurofighters are expected to be flown to Al Dhafra air base to participate in a multinational Desert Flag-series exercise hosted by the United Arab Emirates during 2023, Ortiz de Landazuri says.
Cirium fleets data shows that Madrid has 70 Eurofighters in current use, also including aircraft operated from Moron air base near Seville. The service also will introduce 20 Tranche 4 examples via its Halcon programme acquisition, which will replace Boeing F/A-18A/B Hornets operated from Gando, Gran Canaria.

Craig Hoyle joined Flight International in 2003, and has edited the now monthly title since 2015. He has reported on the UK, European and international military aviation sector for more than 25 years, and produces our annual World Air Forces directory.
View full Profile