The Japanese Ministry of Defense (JMOD) is considering using its Kawasaki C-2 tactical transports to launch missiles mounted on pallets from the aircraft's cargo ramp.
The JMOD sees the C-2 potentially conducting stand-off strikes against high-value targets such as military bases and missile launch sites, according to the Japan Times, quoting JMOD sources.
The report says that Y3.6 billion ($25.4 million) has been budgeted in the 2023 financial year – which runs to 31 March 2024 – to explore the use of the C-2 for strike missions.
The JMOD envisages the C-2 air dropping pallets carrying the Lockheed Martin AGM-158 Joint Air-to-Surface Standoff Missile Extended Range (JASSM-ER).
Tokyo's C-2 project could draw on the US Air Force's (USAF's) Rapid Dragon programme, which aims to give transports such as the Lockheed C-130 and Boeing C-17 the ability to air drop palletised munitions without the necessity of aircraft modifications.
In December 2021, the USAF hit a maritime target with a cruise missile deployed from a pallet that had been air dropped from an MC-130J. While the type of missile was not disclosed, the nature of the target suggests that the naval strike variant of the JASSM-ER – the AGM-158C Long Range Anti-Ship Missile – was used.
Should a conflict breakout in the Asia-Pacific with China, long-range fires deployed from transport assets are seen as a way to boost firepower and complicate Beijing's targeting calculus. Given Japan's proximity to China, Tokyo could well see a similar role for its transports.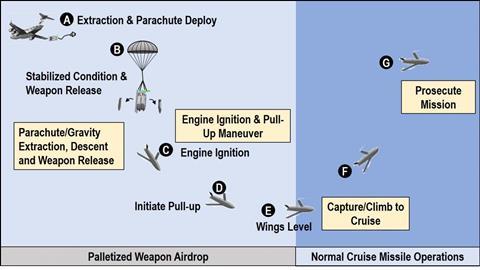 According to the US Air Force Research Laboratory, the Rapid Dragon programme is in its fourth phase of development, setting the stage for powered flight tests.
The first three phases looked at areas such as the feasibility of using transports to drop palletised munitions, command and control, mission planning, simulations, and ground launches.
Cirium fleets data indicates that the Japan Air Self-Defense Force has 18 C-2s. Of these, 16 are listed as serving the transport mission. One is used for experimental work, and another, designated RC-2, serves as an electronic intelligence aircraft.
Powered by GE Aerospace CF6 engines, the twin-engined C-2 was developed as a successor to the Kawasaki C-1 in both strategic and tactical airlift missions.