The US Air Force (USAF) says its first deployment of strategic bombers to a Norwegian air base is intended to boost allied training and readiness in the region, but the visit also underscores Washington's commitment to protecting the Arctic "far north" from the threat of Russian interference.
Four Boeing B-1Bs were flown from Dyess AFB, Texas, to the Royal Norwegian Air Force's Orland base in late February, from where they will be operating over a period of several weeks.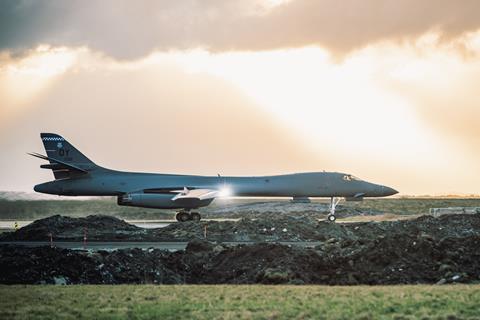 "The aircraft have performed exceptionally well," says Lieutenant General Steven Basham, deputy commander, US Air Forces in Europe & US Air Forces Africa.
Activities performed so far have included dropping unarmed bombs – described by Basham as "inert shapes" – during training conducted on a Norwegian range with joint terminal attack controllers. Several aircraft also participated in a 'Bone Saw' exercise over the North Sea and Baltic Sea on 3 March, alongside fighters from the air forces of Denmark, Germany, Italy and Poland.
"As more countries are drawn to the Arctic region, some with competing interests, it's imperative that we maintain free, fair access for all nations," Basham says.
"While we have maintained a constant presence throughout Europe over the past three years by flying primarily out of the United Kingdom, this is the first time that we are operating from Norwegian soil," he notes.
"By introducing large-scale missions like the Bomber Task Force in Europe, we've become more interoperable with our allies and partners, ensuring that we are prepared for competition at any level," Basham adds.
"While flying out of the UK is great, if we don't expand our horizon and look for other opportunities to work with other allies, other partners, then we miss true training opportunities to continue to develop ourselves and learn from others."
Basham says that under the USAF's agile combat employment strategy, "We are now, not just with our fighter-type aircraft, but our bombers as well as our tankers, our airlift aircraft, our intelligence aircraft, going to be able to operate from many different locations just to increase our level of readiness and our understanding of the environments that we're going to face."
According to Lieutenant General Yngve Odlo, chief of the Norwegian joint headquarters, "The current training with the US Bomber Task Force will increase the level of our own forces to integrate and operate with our nearest allies." The activity will involve the nation's air force, army, navy and special forces personnel, he adds, and include several Lockheed Martin F-35As which it currently has deployed to Iceland for NATO air policing duties.
"Since 2014, the security situation in Europe has changed quite dramatically" Odlo says, referring to Russia's annexation of the Crimea region from Ukraine. "This is a natural part of that, to be able to operate and defend our own territory."