A first engineering and manufacturing development (EMD)-phase example of the T-7A Red Hawk advanced jet trainer made its first flight on 28 June, with Boeing and US Air Force (USAF) test pilots at the controls.
Conducted from the airframer's St Louis final assembly site in Missouri, the milestone sortie was made using aircraft 21-7002: one of five EMD examples that will support test activities by the USAF's Air Education and Training Command.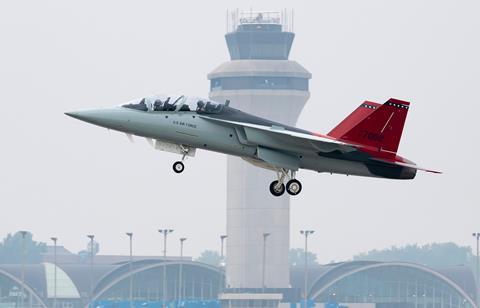 Major Bryce Turner from the USAF's 416th Test Squadron and Boeing T-7 chief test pilot Steve Schmidt performed the 1h 3min flight, which the airframer says "validated key aspects of the aircraft".
"This first flight with the air force represents our team's commitment to delivering a new level of safety and training for fighter and bomber pilots," says Boeing T-7 programme manager Evelyn Moore.
"The stable performance of the aircraft and its advanced cockpit and systems are game changers for US Air Force student pilots and instructors alike," says Turner.
Boeing is to replace the USAF's aged Northrop T-38C fleet with 351 of the new aircraft, and also will provide 46 simulators and support services under a 2018 contract worth $9.2 billion.
Boeing notes that the T-7A's open architecture software design means the platform's capabilities "can evolve as technologies, threats and training needs change". It also claims that its cockpit egress system – centred on the Aces 5 ejection seat, provided by Collins Aerospace – "is the safest of any trainer".
Following test activities, a so-called Milestone C production decision is anticipated during fiscal year 2024, with this due to be followed by approval for full-rate production in FY2026.
In its annual report published in January 2023, the US Department of Defense's director, operational test and evaluation flagged several issues affecting the programme. These included the need to address "the emergency escape system (including the bird strike capability of the canopy), the lack of an automatic ground collision avoidance system, the on-board oxygen generation system, and cyber survivability".
Developed by Boeing in partnership with Saab – which produces the trainer's aft fuselage in West Lafayette, Indiana – the T-7A was first flown in a so-called "production-ready" guise in December 2016.

Craig Hoyle joined Flight International in 2003, and has edited the now monthly title since 2015. He has reported on the UK, European and international military aviation sector for more than 25 years, and produces our annual World Air Forces directory.
View full Profile