Since the foundation of the United Arab Emirates (UAE) 50 years ago, the oil-rich nation has become a formidable military power in the region, thanks largely to its ability to purchase top-end equipment and support from the USA and other friendly countries such as France and the UK. However, the UAE's relentless drive over the past two decades to diversify its economy from a dependence on fossil fuel exports has been coupled with an ambition to stand on its own two feet in terms of sovereign defence capabilities.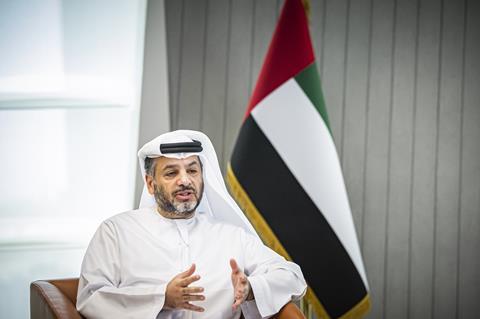 This was the rationale behind the creation of EDGE, a holding group for the UAE's military industrial assets, almost all of them based in and controlled by the largest emirate, Abu Dhabi. EDGE was unveiled at an event in the capital ahead of the last Dubai air show, and its managers have spent those two years creating a centralised structure that consolidates 25 disparate entities into five clusters. EDGE's businesses range from a few years' old to a handful that have been around since the 1990s, and had previously been loosely grouped under various state- and privately-owned entities.
ONE STRATEGY
Internal synergies and global name recognition were among the reasons EDGE was established, explains Faisal Al Bannai, a former telecoms entrepreneur appointed as the group's inaugural chief executive. EDGE gives Abu Dhabi and the UAE a single brand under which it can market its industrial and service offering to the export market. It also brings those 25 businesses, which employ a total of 13,000 people, "under one vision and one strategy, avoiding duplications and accelerating roadmaps", he says.
Combining the entities under a single management structure is paying off in a "dramatic acceleration in our technology offering", says Al Bannai. There are 10-times as many products under development today than there were when EDGE was founded, a result of its businesses becoming "more agile and faster to market". These include the launch of a family of battlefield-deployable loitering munitions at February's IDEX defence show in Abu Dhabi. "It showcased how fast we could deliver. We developed drone capabilities that did not exist before in record time," he says.
By exploiting economies of scale and encouraging EDGE companies to cooperate, "we are working on products that could not be created by individual companies", suggests Al Bannai. He gives an example from the growing field of loitering munitions – a hybrid of missile technology and expertise in unmanned, self-navigating platforms. EDGE has both an unmanned systems unit, ADASI, and one that produces airborne munitions, Halcon. "By putting together these different building blocks, working hand in hand, we can add value and create new categories of product," he adds.
EDGE's $5 billion revenues should put it in the upper half of the FlightGlobal Top 100 (which only considers aerospace turnover). The Stockholm International Peace Research Institute places EDGE 22nd among the largest 25 arms firms. However, Al Bannai stresses that size is not all that matters. "We are a company with some scale," he says. "But we function like a start-up. We are supported by a government, so we are not going to go belly-up tomorrow. However, we have a start-up mentality in that we encourage agility and speed of decision making to come up with fresh product lines."
HOME-GROWN CAPABILITIES
EDGE's extensive portfolio ranges from missiles to maintenance, repair and overhaul, and from armoured vehicles to ammunition. However, electronic warfare and autonomous capabilities are two areas where Al Bannai thinks EDGE can be a "key player on a global scale". For this to happen, it will need both the home-grown know-how to develop its own technologies and competencies, without having to rely on foreign-owned intellectual property, as well as the industrial capacity to adapt these into products both for its own domestic customer, and the export market.
So far, EDGE's legacy companies have cooperated largely with partners, such as Lockheed Martin, Denel of South Africa, and Germany's Rheinmetall. It developed its Al Tariq long-range missile family based on Denel technology and has worked with Rheinmetall to produce a short-range counter-rocket, artillery and mortar missile called SkyKnight that will be part of the German company's wider air defence concept, Oerlikon Syknex. In 2010 it began a military MRO joint venture with Lockheed and Sikorsky to maintain the UAE's C-130H Hercules and UH-60 Black Hawk fleets.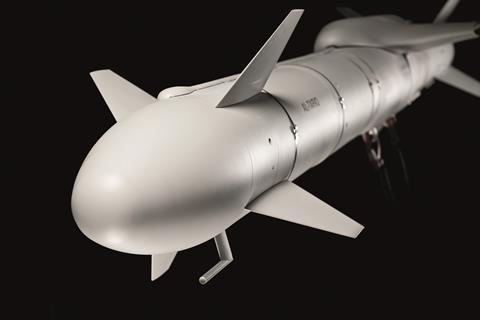 However, thanks to a combination of recruiting defence industry professionals from around the world and nurturing Emirati talent, Al Bannai thinks it will not be long before EDGE is marketing much more of its proprietary technology. Its Halcon subsidiary, for instance, is planning to move by the middle of the decade from producing a range of unpropelled, gravity-launched guided-delivery systems for missiles into segments such as propelled air-to-surface weapons, a surface-to-air capability, and finally air-to-air, according to Halcon chief executive Saeed Al-Mansoori.
And, while EDGE still has a "good relationship" with Lockheed, it is no longer a joint venture partner, EDGE having last year bought out the US company's shares in military MRO AMMROC. That coincided with the opening of a 36,500sq m (393,000sq ft) hangar and workshop complex next to the airport in the desert oasis town of Al Ain, next to the Oman border. The site includes a paint hall, engine test rigs, and, according to EDGE, the most sophisticated helicopter blade repair facility outside the USA. It is set up for the Black Hawk, but could be modified for other types.
Israel is another potential partner. Similar in size to the UAE, the Jewish state has over seven decades created its own enviable defence industry, designing and producing almost everything itself except large manned aircraft platforms, and with some three-quarters of its revenues coming from exports. Last year's diplomatic recognition of Israel by the UAE opened the opportunity to team on defence technologies, and in March, EDGE and Israel Aerospace Industries announced they would work together on developing a counter-UAV system for the Gulf market.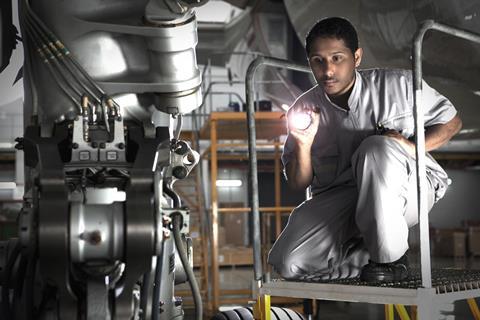 So far, EDGE has been almost exclusively focused on supplying the domestic customer, but joining the world's elite club of defence technology exporting countries is very much on the radar for Al Bannai and the UAE's rulers. Al Bannai sees nations in Africa, Asia and South America as being among the target customers. And, rather than simply being a vendor of products, he believes EDGE can use its experience of developing an indigenous defence sector within Abu Dhabi to help these states build their own capabilities.
With a large presence planned for the show, Dubai will give the defence industry's newest name a chance to sell itself to the world.