UK transport ministry officials are targeting work around testing as the next stage in building passenger confidence in air travel following the coronavirus pandemic.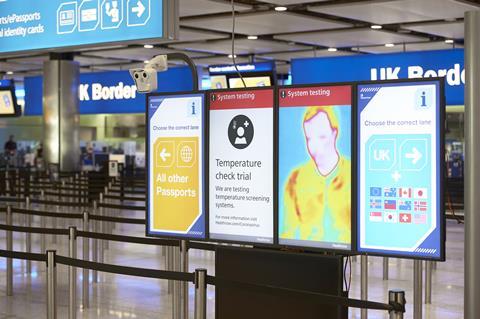 Airlines have begun restoring scheduled passenger services to and from the UK since the government relaxed its quarantine rules, which required all visitors to to self-isolate for 14 days.
The UK had been one of a handful of European countries to operate the blanket quarantine until it from 10 July allowed visitors to England from more than 50 countries to be exempt from the isolation requirements.
"That is going to be an ongoing challenge," explained Jack Goodwin, deputy director of the UK transport ministry's Restart, Recovery and Engagement unit during an FIA Connect panel debate today on the recovery of air travel.
"Unfortunately the [UK] government has already had to remove one country, who we felt was starting to pose a health risk to the UK, from our list," Goodwin notes.
The UK on 11 July removed Serbia from the list of countries exempt from quarantine requirements.
"We are very much hoping, that as the world responds and manages Covid-19 successfully, more and more countries will end our requirement for self-isolation on arrival [to the UK]," says Goodwin.
"The next big piece of work for the department [for Transport] is the options around the testing and how we can work the airlines and other nation states, to ensure that when someone arrives, they can effectively demonstrate that they are free from Covid and so avoid the self-isolation requirements that puts most people off from travelling.
"That's the real grand prize, that's what we are working to next, and as countries become safe, we will hopefully expand our list [of quarantine exemptions]," says Goodwin.
He notes the messaging to assure passengers to travel again is challenging. "Lots of people are going to question on any mode of transport, the risk of getting Covid 19. We will continue to support the industry in getting that messaging right… until there is a vaccine."
But Goodwin adds: "We talk a lot about the health risk, but I think we need to talk about the financial risk to the consumer and the questions they will have when they are booking their holiday or flight."
He notes they have uncertainties around what the crisis means for insurance, ticket prices, refunds and what happens if a country locks down again.
"These will be quite considerable calculations that people will be making, especially when in the past – particularly within the holiday market – people have made decisions months in advance before actually going away," he says.
"So we need to think about the health risk and financial risk for the individual and what the new mechanism, and processes are, and what the communication isthat reassures people to get back and purchase a flight."