Boeing plans to offer its P-8A Poseidon maritime patrol aircraft as a contender for Canada's Multi-Mission Aircraft project.
"The range, speed and endurance of the P-8 makes it the perfect platform to monitor Canada's northern and maritime approaches, and the P-8 will ensure allied interoperability to meet Canada's security commitments," Boeing international business development director of Europe and Americas Tim Flood said on 10 February.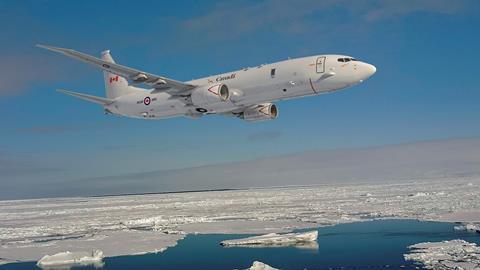 The Canadian Multi-Mission Aircraft project is intended to replace the Royal Canadian Air Force's Lockheed CP-140 Auroras. Ottawa wants an aircraft that can conduct anti-submarine warfare and intelligence, surveillance and reconnaissance.
"Canada's large size necessitates an aircraft with long range and loiter times to ensure the platform can transit to operating areas and remain on station for sufficient time" says the Canadian Department of National Defence (DND).
P-8As have a 1,200nm (2,200km) flight radius, including 4h on station, and an in-flight refuelling capability. The aircraft, based on the Boeing 737NG commercial airliner, are land-based jets designed for attack missions against submarines and surface ships, and for intelligence missions.
The type typically carries sensors including synthetic aperture radar and electro-optical and infrared cameras. The P-8A has a bomb bay within its fuselage and weapons pylons on its wings that can carry Boeing AGM-84 Harpoon anti-ship missiles and Mark 54 lightweight torpedoes. The jet can also carry 129 A-size sonobuoys.
Canada has not specified how many replacement maritime patrol aircraft it wants. It expects initial delivery of a replacement by around 2032 and 2033, with final deliveries around 2037 and 2038. The DND estimates the value of the Multi-Mission Aircraft project will be more than $5 billion.
There are more than 140 P-8As in service. Operators include the Indian navy, Royal Australian Air Force, Royal Norwegian Air Force, UK Royal Air Force and US Navy. Boeing has said initial deliveries of the Poseidon to the Royal New Zealand Air Force, South Korean navy and German navy will take place in 2022, 2023 and 2024 respectively.