The F-35 Joint Program Office estimates that the stealth fighter will not complete initial operational test and evaluation (IOT&E) by March 2021 as predicted.
That means the US Department of Defense's (DoD's) full-rate production decision review will be further delayed to a date later next year, the Pentagon said on 27 October.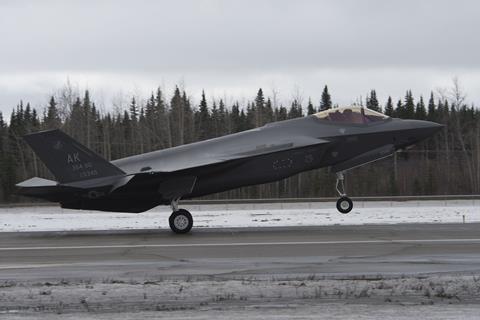 The DoD had expressed confidence as recently as August that the IOT&E process would be complete by March 2021, after multiple delays since the process started in December 2018. The Joint Program Office and DoD did not respond to questions about why the decision was delayed again.
A full-rate production decision, also called Milestone C, would guarantee multi-year orders to Lockheed Martin, securing it future revenue and enabling the manufacturer to pass back a bulk discount to its F-35 customers. A Milestone C decision is needed for US Congress to authorise a multi-year contract.
The start of full-rate production would also be a symbolic victory for Lockheed and the F-35 Joint Strike Fighter programme. The multinational fighter development and production programme began in the early 1990s, but has been repeatedly delayed due to design deficiencies with the aircraft.
The Pentagon's top weapons tester, the Office of the Director of Operational Test & Evaluation, said in a report released in January that the F-35 had 873 unresolved deficiencies, and that new problems were being discovered regularly. The DoD says progress has been made resolving deficiencies, though the number of outstanding problems remains unknown.
To finish IOT&E and start the full-rate production review, the F-35's capabilities and vulnerabilities need to be assessed in the Joint Simulation Environment. The DoD plans to use that software simulator to test the stealth fighter against a range of hypothetical air and surface threats, including those it expects to emerge within the next 10 years.
The DoD expects the Joint Simulation Environment to complete sometime in 2021, but not soon enough to enable the full-rate production review to finish by March.
"The F-35 [Joint Program Office] is preparing an updated project schedule based on measured progress to date," says the DoD. "[Joint Simulation Environment] evaluation will inform the beyond [low-rate initial production] report, a statutory requirement for full-rate production decision review. Until the completion of the [full-rate production decision] review, production of the F-35 will continue in [low-rate initial production] in accordance with Congressional authorization and appropriation."
Lockheed is technically producing aircraft this year as part of low-rate initial production lot 12. However, despite the label of "low-rate production", the company plans to produce between 120 to 125 examples of its F-35 stealth fighter in 2020 (down from an anticipated 140 units due to coronavirus disruptions). It has previously projected peak production to hit 180 aircraft in 2024.