A Russian Sukhoi Su-34 fighter-bomber has crashed into an apartment complex in a city near Crimea, resulting in at least two deaths.
Defence officials in Moscow confirmed the accident on 17 October, which occurred at around 23:30 local time in the port city of Yeysk.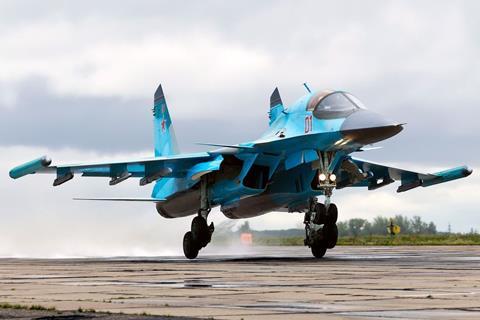 "The cause of the plane crash was the ignition of one of the engines during take-off," the Russian defence ministry said, according to state-run news service RIA Novosti. The jet was performing a training flight, rather than a combat mission, the ministry says.
"At the site of the crash of the Su-34 in the courtyard of one of the residential quarters, the plane's fuel ignited," the ministry adds. Both pilots ejected before impact.
Video and photos circulating on the social media platform Telegram, show an apartment tower engulfed in flames against a dark night sky. Repeated secondary explosions can be heard in at least one of the videos, filmed by a bystander.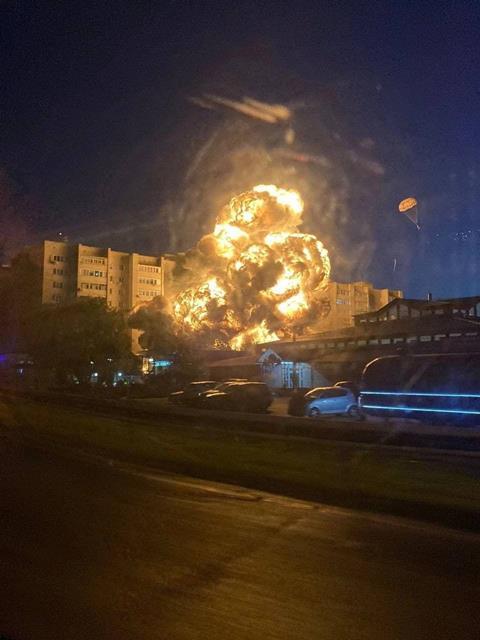 In a photo of the crash site, a pilot can be seen drifting above the wreckage under a parachute canopy, illuminated by the nearby blaze.
The city of Yeysk, strategically-located on the Sea of Azov in the Krasnodar Krai region, is home to a Russian naval aviation training centre. Regional governor Veniamin Kondratyev posted on Telegram confirming that the aircraft was a Russian Su-34 strike fighter.
"Emergency services are already working on the spot – all regional fire and rescue garrisons are engaged in extinguishing the fire," Kondratyev writes.
Local emergency officials say that at least two individuals are known to have perished, with 15 more injured. However, that number is expected to climb further, with five floors of the crash site ablaze and the building partially collapsed, according to statements from emergency officials given to Russian news agency Interfax.
Russia's military aviators have struggled throughout the eight-month war with neighbouring Ukraine. Numerous videos have emerged on social media showing combat aircraft crashing or conducting missions with substandard equipment.
A senior US Air Force officer recently indicated to FlightGlobal that at least 55 Russian fighters have been confirmed shot down over Ukraine, although Kyiv claims a much higher number.