The US Air Force (USAF) has awarded Northrop Grumman a contract to provide a new electronic countermeasures system for its fleet of Lockheed Martin F-16C/D fighters.
The countermeasure system, also referred to as an "electronic warfare suite", is intended to protect the aircraft from radar-guided missiles via jamming and other techniques. The contract was issued via the System of Systems Consortium, an aerospace industry group started by the US Department of Defense to manage Other Transaction Authority contracts, a sort of speedy government funding mechanism for research and development or prototype work, Northrop said on 11 January.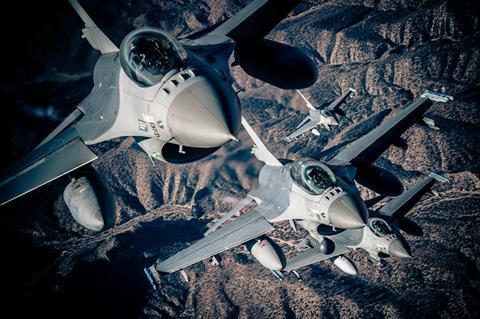 The value of the contract was not disclosed. The USAF says it has 1,017 examples of the F-16C/D in its fleet.
"The electronic warfare suite will significantly increase protection to F-16 operators as they execute their missions in increasingly contested environments," says Ryan Tintner, vice-president of navigation, targeting and survivability with Northrop. "This system draws on the best of our experience from multiple programmes to create an effective and affordable solution to keep the Viper relevant throughout its service life."
The countermeasure product has an open systems architecture and "ultra-wideband" capacity for jamming the radar seekers of incoming missiles. It is interoperable with the F-16 fleet's Northrop APG-83 Scalable Agile Beam Radar. The system is based on the AC/MC-130J Radio Frequency Countermeasures programme and uses APR-39 radar warning receivers, says Northrop.
The company also notes the product can be added to an aircraft in an internal or podded configuration. Northrop says the countermeasures are available to international partners of the USA as well.