The US Department of Defense (DoD) sent a delegation to Ankara on 27 October to attempt to resolve fallout from Turkey's ejection from the Lockheed Martin F-35 Joint Strike Fighter programme.
The country was removed from the stealth fighter programme after it bought and received the Russian-built Almaz-Antey S-400 surface-to-air missile system in 2019. Washington does not want the F-35 flying regularly within sight of that radar-guided missile battery. The system supposedly has "anti-stealth" capabilities and might be able to find vulnerabilities in the aircraft.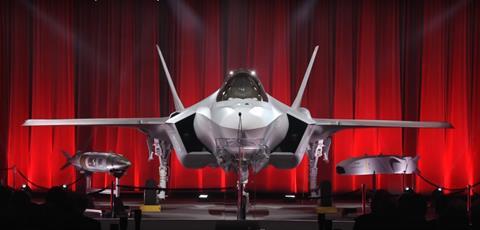 Turkey's removal from the F-35 programme was made final on 23 September, the DoD said on 27 October.
Andrew Winternitz, principal director for Europe and NATO policy, and Melissa Benkert, director for planning, programmes and analysis in the office of the under secretary of defense for acquisition and sustainment, led a delegation from the DoD for discussions with the Turkish Ministry of National Defence.
"The meeting demonstrates the commitment of the United States government to conclude respectfully Turkey's prior involvement in the F-35 programme," the Pentagon says. "Discussions were productive, and the delegations plan to meet again in the coming months in Washington, DC."
Turkey had planned to buy 100 examples of the F-35A, a commitment that made it one of the largest international buyers for the aircraft. And, it was a manufacturing partner in the Joint Strike Fighter programme, supplying some 937 parts for the aircraft. The country was also to host the main engine overhaul facility for European F-35s.
F-35s intended for Turkey – many of which were ready for delivery or were in production at the time of the country's expulsion – were reallocated to other customers. Parts manufacturing and aircraft support contracts held by Turkish companies were transferred to firms of other Joint Strike Fighter programme participants at an estimated cost of $500-600 million, the Pentagon has said.
Turkish government officials recently have demanded the return of what they claim was $1.4 billion paid for undelivered F-35s. It is not clear if that money was solely for the purchase of the stealth fighters, or if it also included funds Ankara invested in the development programme, which allowed the country's manufacturers to later bid for a place in the jet's supply chain.
"Either Turkey needs to be sent back to the F-35 programme, or the money we paid should be given or compensated with other products," foreign minister Mevlut Cavusoglu said on CNN Turk on 28 October.
Turkish president Recep Tayyip Erdogan claims that his country is negotiating with the USA to reallocate F-35 funds toward acquiring more Lockheed F-16s, reported Daily Sabah on 17 October. Erdogan said he expected to discuss a possible deal with US president Joe Biden at the G-20 summit, which takes place on 30-31 October in Rome.
Turkey wants to buy 40 new-build F-16V Block 70 fighters and nearly 80 kits to modernise its existing F-16 fleet, according to a Daily Sabah report on 8 October that cited confidential sources. The Turkish air force has 243 F-16C/D fighters in service, with an average age of 25.5 years, according to Cirium fleets data.
The modernisation kits would presumably bring a portion of those jets to the F-16V configuration, which features an active electronically scanned array radar, a large, high-resolution cockpit display, a Link-16 communications data link, Lockheed Sniper advanced targeting pod and an Automatic Ground Collision Avoidance System, among other features.