Senior officials within the US Air Force (USAF) plan to wind down a Lockheed Martin hypersonic weapon development programme, in favour of other options.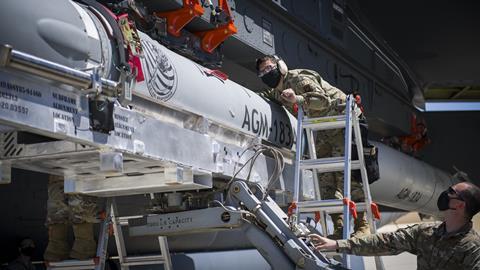 Lockheed has spent several years developing the Air-launched Rapid Response Weapon (ARRW) for the USAF. The precision munition is capable of achieving speeds exceeding Mach 5, but the system suffered numerous technical challenges over its short lifespan.
While earlier budget documents indicated the USAF was inclined to sunset the programme, that has now become official, following an unsuccessful test launch of the high-speed weapon.
Speaking to Congress on 29 March, USAF acquisitions chief Andrew Hunter said the service would complete the scheduled ARRW testing regimen, but will not procure the ultra-fast precision missile.
"While the air force does not currently intend to pursue follow-on procurement of ARRW once the prototyping programme concludes, there is inherent benefit to completing the… test flights to garner the learning and test data that will help inform future hypersonic programmes," he says.
A day earlier, at a separate congressional hearing on 28 March, USAF secretary Frank Kendall revealed that the latest ARRW test had failed.
That test, which occurred on 13 March, according to Air Force Materiel Command, was the second launch of a fully-assembled ARRW prototype.
"The test met several of the objectives and the ARRW team engineers and testers are collecting data for further analysis," the command said on 24 March, noting the test weapon was launched from a Boeing B-52H bomber.
Kendall took a more blunt tone in his assessment of the 13 March event.
"The one we just had was not a success," he says. "We did not get the data that we needed."
Lockheed began testing the ARRW in 2019, but quickly ran into issues. At the time, the USAF said it hoped to have a hypersonic weapon at initial operating capability by 2022, but that timeline proved overly optimistic.
The programme suffered three failed tests in 2021, before reversing course in 2022. In that year, Lockheed completed three successful ARRW tests, including the first launch of a fully-assembled prototype.
The end of ARRW does not mean the USAF has given up its pursuit of hypersonic flight.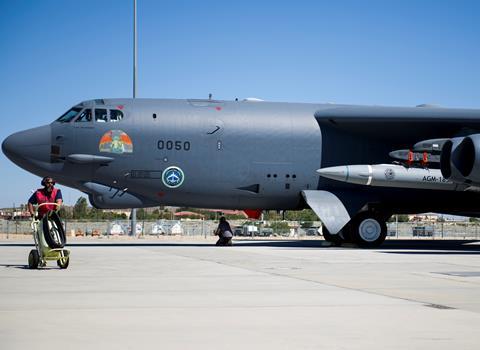 The service is funding numerous programmes to accelerate development of hypersonic technologies – including a reusable test platform from Stratolaunch and another hypersonic weapon system known as the Hypersonic Attack Cruise Missile (HACM).
A joint project of Raytheon Missiles & Defense and Northrop Grumman, the HACM in September 2022 defeated bids by Boeing and Lockheed for a $958 million USAF development contract.
Raytheon describes HACM as an air-breathing, scramjet-powered munition. Scramjet engines use high flight speeds to forcibly compress incoming air before combustion, a process Raytheon says enables sustained flight at hypersonic speeds – generally considered to be M5 or greater.
The two companies have collaborated on HACM since 2019 to integrate Northrop's scramjet engines into Raytheon's air-breathing hypersonic weapon designs.
Hypersonic weapons, like HACM, can reach targets faster than traditional intercontinental ballistic missiles, potentially letting them evade missile-defence systems.
Separate to USAF hypersonic efforts, the US Defense Advanced Research Projects Agency is developing a munition it calls the Hypersonic Air-breathing Weapon Concept – a design using a Lockheed hypersonic vehicle and an Aerojet Rocketdyne scramjet engine.
The Pentagon's Defense Innovation Unit also recently announced a contract with Australian start-up Hypersonix to build a reusable hypersonic test vehicle.