EVA Air has ordered one Boeing 777 freighter, as the airline eyes opportunities in a buoyant cargo market.
The aircraft, which is expected to be delivered by end-2023, will add to its fleet of eight 777Fs, the last of which was delivered in December 2021.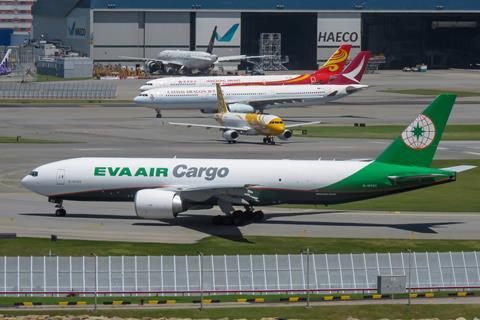 EVA Air president Clay Sun says: "We continually evaluate passenger and cargo market needs so that we can appropriately increase capacity, meet demand and enhance our risk management capabilities. We also regularly review our fleet composition and develop strategies that will best equip us to secure a competitive edge in these markets."
The carrier's cargo operations has helped lift its earnings amid a collapse in passenger travel demand. Like its compatriot China Airlines, EVA Air doubled down on freight early on the pandemic, tapping into growing demand.
Adds Sun: "Our immediate and long-term goals are the same. We aim to thrive in the booming air cargo markets of today and in the future, sustain the flexible services and unmatched reliability we are known for, and, at the same time, help meet global conservation and environmental goals."
In March, the carrier engaged Israel Aerospace Industries to convert three 777-300ER passenger aircraft into freighters, in a deal valued at around $120 million.