IAG has taken a €729 million ($863 million) charge in conjunction with a broad fleet impairment covering 61 aircraft, including the withdrawal of British Airways' Boeing 747-400 fleet and Iberia's Airbus A340-600s.
The exceptional charge deepened IAG's already-dire operating loss for the first half to just over €4 billion, in contrast to the near-€1.1 billion operating profit for the same six months last year.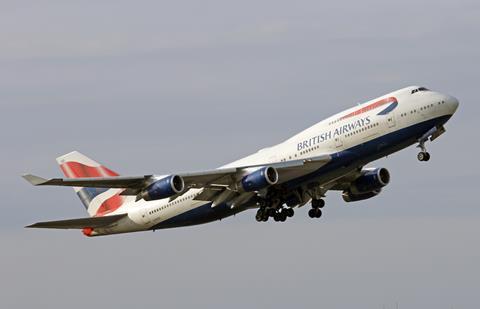 British Airways had revealed in mid-July that it would retire its entire 747 fleet (above) given that passenger demand, according to IAG, is unlikely to return to pre-crisis levels until at least 2023.
IAG says that, as a result of BA's expectation that it will "no longer need to operate any further Boeing 747 flights", the fleet and its associated inventory is being fully impaired, pending disposal.
Spanish flag-carrier Iberia has also recognised a similar impairment of its A340-600s (below).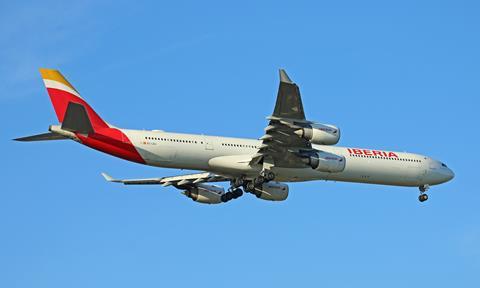 "These fleet plans remain subject to employee consultation as appropriate and decisions to dispose of the aircraft will only be taken once those processes have concluded," IAG points out.
IAG's fleet impairment relates to 55 aircraft which will be stood down permanently, and six which will be impaired down to recoverable value.
These 61 aircraft comprise the 32 BA 747s and 15 Iberia A340s, plus four Airbus A330-200s, four A320s, two Boeing 777-200s, and four Embraer 170s.
IAG says the number of aircraft in service across its fleets fell to 548 by the end of the second quarter, from 598 at the end of last year.
The difference of 50 aircraft includes the withdrawal of 62 jets – among them all 32 747s and 11 of the A340s – offset by introduction of six Airbus A350s, two A330-300s and four A321s.
Although most of the in-service fleet was grounded during March, they continued to have depreciation charged. IAG says the fleet reduction will reduce depreciation in future quarters.
Over the first half of the year the company recognised a €1.27 billion exceptional charge for fuel and currency overhedging, plus a €77 million charge for engineering and other aircraft costs.
IAG also lists a €22 million charge relating to the 2018 cyberattack which resulted in theft of BA customer data. Although no final penalty has been issues, the company says the figure is a "best estimate".