JetBlue Airways has been looking at potentially selling and leasing back 30 owned Embraer 190s as it seeks to transition the aircraft out of its fleet in favour of the Airbus A220, Cirium understands.
The US carrier has engaged in bilateral talks with a select number of lessors to divest its fleet of the regional jets, rather than opting for a formal request-for-proposals method. Lease terms of two to six years are on offer depending on JetBlue's A220 delivery schedule, a leasing source says.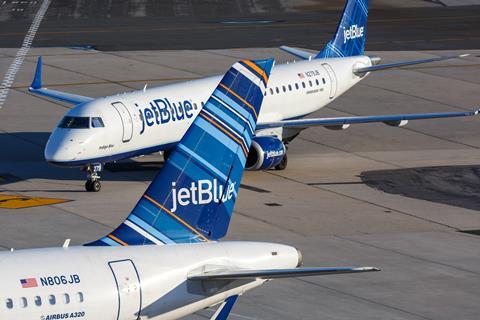 Seeking "an exit strategy for the 30 E-Jets that are on their books", the New York-based airline has been "looking to do a sale-and-leaseback", adds the source, though they note: "The whole process is on hold at the moment."
Cirium fleets data shows that JetBlue has 60 E190s, half of which are leased from GECAS.
The source says JetBlue would prefer to do a deal with one lessor for all the owned aircraft and speculates that GECAS may be well placed to pick up the mandate, as might a well-capitalised Embraer specialist such as Azorra Aviation.
"If they could do all 30 E-Jets with one lessor they would be quite happy because then they don't [have] the hassle obviously of doing redeliveries with five or 10 different lessors," the source suggests.
JetBlue has one A220 in service and a further 69 on order, and holds options for a further 30, Cirium fleets data shows. Its first A220 was delivered on 31 December 2020.
The carrier originally placed an order for 60 A220s and 60 options in 2018 as part of a replacement strategy for its E190 fleet. The original schedule was for deliveries of the firmed 60 aircraft to start in 2020 while delivery of the 60 options, if confirmed, would take place from 2025.
On 15 February, JetBlue told Cirium it had paid cash to finance its first A220 delivery and was still putting together its "holistic A220 financing strategy and plan".
The carrier has been contacted for an update.