Norwegian continues to make progress in settling leases and other contracts with creditors under its Irish restructuring process, but faces opposition from some parties.
In an Irish High Court hearing on 23 February, Norwegian's representative Brian Kennedy said that the creditors it was dealing with fell into five groups: those with whom Norwegian has agreed to withdraw its repudiation applications; those with agreements to which court orders apply; those with which the airline has nearly settled or is engaged in discussions to settle and withdraw in the coming days; those that Norwegian is proceeding against but that have not opposed or indicated opposition to the applications; and, "most significantly", those "actively opposing" the application.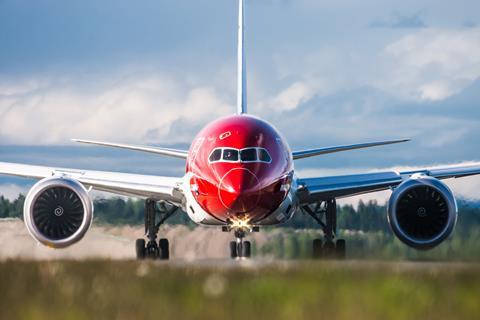 Repudiation applications relating to DVB, ORIX, Goshawk, Wings Capital, Avolon, Macquarie, Accipiter, Jackson Square, Investec and to Wells Fargo Company for leases guaranteed by Export-Import Bank of the United States have been withdrawn, says Kennedy.
An agreement has been concluded with Airbus, but there is a need to agree draft terms. An application involving Mitsui has already been partially withdrawn, and Kennedy says his understanding is that a consent order can be made in relation to it in the coming days.
Applications involving aircraft leased from SMBC Aviation Capital have been partially withdrawn in respect of certain contracts and and can overall be considered withdrawn "on the balance", says Kennedy. Sub-leases relating to MSNs 42272 and 42275 are being discussed.
Talks with Rolls-Royce and Rolls-Royce Leasing are at a "very advanced stage", Kennedy says, while Norwegian has also progressed to "fairly advanced" negotiations with MG Aviation.
In relation to Aviation Capital Group, the application proceeds as regards certain parts of the contracts, covering MSNs 38881 and 40544.
Applications relating to Engine Lease Finance and Lufthansa are set to be withdrawn.
Those in relation to AerCap will proceed, but are not being opposed. Rossa Fanning, senior counsel for AerCap, says the lessor did not oppose the application in principle but required clarifications as regards "the order, rather than the substance".
Dr Peters has not appeared in the proceedings to date and therefore the application in relation to them is proceeding, Kennedy says.
AFIC, Societe Generale, Merx Aviation, PK AirFinance, UK Export Finance, Credit Agricole and ICBC Financial Leasing are opposing applications, as is Wells Fargo in relation to MSNs 41148 and 42071, but not 42070, 42078 or 42081.
Kennedy set out some of the arguments against the applications as received in affidavits from creditors. These include issues around relevant tests relating to the nature and adequacy of evidence which needs to be put before the court by the companies in a repudiation order.
Other issues include the role of international jurisdiction, foreign law clauses, and the implications of the Cape Town Convention and its impact on the applications.
Kennedy read out points made by ICBC Financial Leasing in its opposition to applications. The Chinese lessor accuses Norwegian of failing to present even a rudimentary explanation to justify its action, and argues that the airline's business plan contains "no detailed analysis" of why individual leases had to be repudiated.
Further, the "wholesale" repudiation of leases is "inconsistent" with Norwegian's objective to operate a fleet of 50 aircraft as set out in its restructuring plan, in the lessor's view .
The lessor is not willing to bear responsibility for a significant portion of maintenance costs relating to the aircraft being rejected, and contends that the repudiation orders represent a threat aimed at ensuring it agrees to "uncommercial concessions" it would not otherwise consider.