Turkish budget carrier Pegasus has indicated that it will push back some aircraft deliveries, as it continues negotiations with Airbus regarding the A320neo-family twinjets it has on order.
The airline's second-quarter results presentation – released on 12 August – states that while it still intends to take 55 new aircraft in the 2021-2024 timeframe, more will arrive later in the period. Specifically, it has reduced its intake in 2022 from 18 to 11 aircraft, with its 2023 intake rising from 10 to 17 jets.
The seven extra aircraft listed in the 2023 intake are the larger A321neo variant, while the seven removed in 2022 are A320neos.
Those changes mean that once the carrier has taken 11 A320neos and five A321neos in 2021, it plans to only take the latter variant in 2022-2024: 11, 17 and 10 respectively each year.
The carrier would not comment on the specifics of its fleet projection, stating that negotiations with the airframer are ongoing.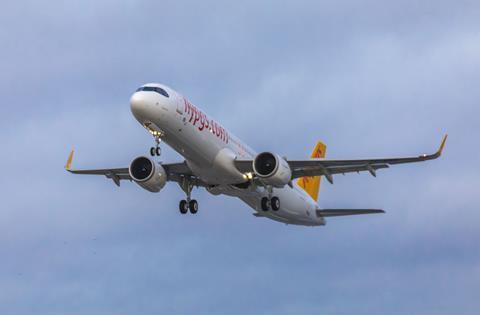 Pegasus is still aiming to have a fleet of 108 aircraft at year-end 2024, according to the presentation, featuring 54 A320neos, 50 A321neos and four Boeing 737-800s – totals that reflect the uptick of seven A321neos at the expense of seven A320neos.
The carrier's planning continues to represent a significant overhaul of its current fleet, which on 30 June this year featured 37 737-800s, 35 A320neos, 12 A320ceos and five A321neos.
It took delivery of three A320neos and three A321neos during the second quarter, utilising Airbus's remote delivery process.
The changes to Pegasus' fleet projections came as the Istanbul-headquartered operator recorded an operating loss of €109 million ($129 million) for the second quarter, compared with a profit of €71 million in the same period of 2019, amid the effects of the coronavirus pandemic.
A net loss of €120 million was driven "primarily by the negative operating result", but Pegasus also notes a €35 million negative impact from fuel hedges.
Revenue in the second quarter was down 95% year on year at €22 million – compared with €407 million in the second quarter of 2019 – as scheduled flights were grounded during April and May, with domestic services resuming on 1 June and international sectors from the middle of that month.
During the quarter, Pegasus says its costs were down 75% year on year at €100 million. Cash fixed costs were cut by 60%, the airline notes, citing measures including the government's support package for wages, unpaid leave, deferred and renegotiated supplier payments, and reduced MRO activity.
A "strong focus on liquidity" continues, the carrier states, with Pegasus recording cash and equivalents at the end of the second quarter of €564 million, up from €486 million at the end of March. That increase was achieved through €53 million cashback received from a €103 million margin call on fuel hedges paid in the first quarter, while it also added €93 million via a bank loan that was drawn down during the second quarter.
It estimates its monthly cash burn during the grounding of its fleet at €33 million.
Beyond the second quarter, the budget carrier says that its domestic capacity in July was at 76% of the level flown in the same month of 2019, while passenger numbers were at 58% year on year. International capacity was at 22% of July 2019 levels and passenger numbers at 15%, amid "ongoing travel restrictions".